Migrant caravan: Mexico offers temporary work permits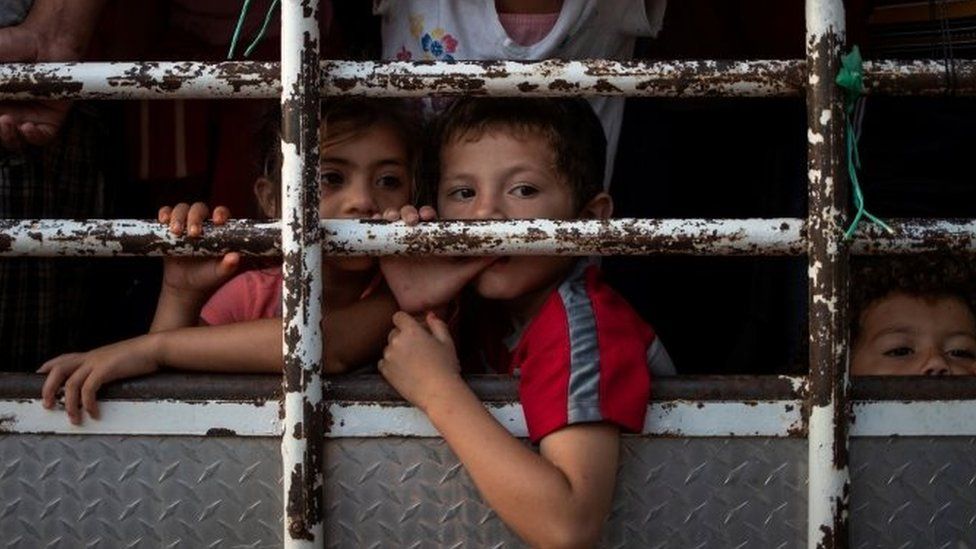 Mexico has offered temporary work permits to migrants who register for asylum, as a big caravan of Central American migrants makes its way through the country toward the US.
The plan also envisages temporary ID cards, medical care and schooling.
But to qualify, migrants must remain in Mexico's southern Chiapas and Oaxaca states.
"I am bringing out the military for this National Emergency," US President Donald Trump tweeted earlier this week. "They [the migrants] will be stopped!"
The president also threatened to cut aid to Guatemala, El Salvador and Honduras.
The mid-term elections are less than two weeks away and critics say Mr Trump has used the threat of illegal immigration to fire up his supporters.
However, the caravan, which set off from Honduras several weeks ago, is still more than 1,000 miles away from Mexico's northern border with the US.
What about Mexico's plan?
The scheme, announced by President Enrique Peña Nieto, covers Central Americans who have officially asked for refugee status in Mexico or are planning to do so in the near future.
It is called Estás en Tu Casa ("You're in Your Home" in Spanish).
"Today, Mexico extends you its hand," President Peña Nieto said.
But he added: "This plan is only for those who comply with Mexican laws, and it's a first step towards a permanent solution for those who are granted refugee status in Mexico."
Temporary ID cards and work permits
Medical care
Schooling for migrants' children
Housing in local hostels
But President Peña Nieto failed to explain what would happen to the migrants if they chose to carry on regardless.
The Mexican authorities are coming under increasing pressure from the Trump administration to find a solution to this caravan, reports the BBC's Central America correspondent Will Grant in the town of Arriaga, Chiapas.
The authorities are trying to tread a balance between placating the US and giving a green light to travel to potential future caravans, our correspondent adds.
Where is the caravan now?
The caravan is presently in Arriaga.
Most migrants said they had no intention of abandoning their plans to head to the US.
"The majority plan to cross the border. And that's my intention, too," José Santos, from Honduras, told the BBC.
"Because, yes, while life here is calmer than at home, it's still not like the US where it would get better. That's the goal: to have a better life."
Meanwhile, Anna Lisset Velázquez, also from Honduras, told the BBC: "It's a kind offer - but it's not the plan that we have, to stay here halfway up."
However, another migrant described Mr Peña Nieto's proposal as a decent "plan B".
"Because we can't go back to Honduras. So as a second choice, we'd be better off here," Greville Juan Villanova said.
A spokesman for the United Nations said more than 7,000 people had joined the migrant caravan as of 22 October, citing estimates from the International Organization for Migration.
But the group has split up, which makes it difficult to determine the exact number.
The migrants say they are fleeing persecution, poverty and violence in their home countries of Guatemala, Honduras and El Salvador.
Can they migrate legally?
On Thursday, Mr Trump once again urged the migrants to stay away, tweeting: "To those in the caravan, turn around, we are not letting people into the United States illegally."
Many of the migrants say they plan to seek asylum in the US.
There is a legal obligation under international law to hear asylum claims from migrants who have arrived in the US if they say they fear violence in their home countries.
But in June, US Attorney General Jeff Sessions announced that victims of domestic abuse and gang violence would no longer generally qualify for asylum in the US.
Those seeking asylum must be fleeing due to a serious fear of persecution in their home country. Under international law, these are considered refugees.
If an asylum seeker enters the US illegally, they are still entitled to have their claim heard.
The mid-term elections are less than two weeks away. Critics say Mr Trump has used the threat of illegal immigration to fire up his supporters.