Jair Bolsonaro: Brazil's swing to the right brings fear and celebration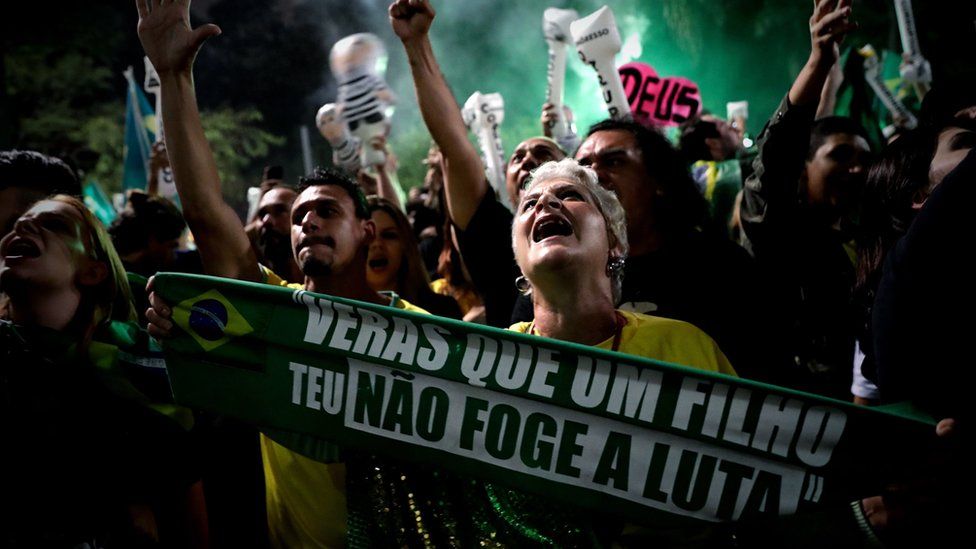 Even before the results were in, Jair Bolsonaro's supporters were celebrating outside his beachfront flat in the upscale Rio suburb of Barra da Tijuca.
"The legend has arrived," they shouted, using the nickname for Brazil's president-elect.
"Out with the Workers' Party," yelled others. A cry that defines what these elections have been about.
More than just a victory for Mr Bolsonaro, this year's vote has been a referendum on the left and its poster boy, former President Luiz Inácio Lula da Silva, who's in prison for corruption. The hatred towards the left has been pervasive.
Mr Bolsonaro and his supporters blame them for all the ills Brazil is suffering - growing violence, economic struggles and political graft.
"My country needs security, conservative morals and honesty," said one supporter.
Another told me Mr Bolsonaro was everything Brazil needed - a firm leader who can bring an end to corruption and crime.
The Workers' Party's campaign strategy ultimately backfired. For too long, Lula remained the party's chosen candidate, despite the fact that his criminal conviction barred him from running.
The party was keen to capitalise on the love that millions still have for Lula. He left power at the end of 2010 with an approval rating of more than 80%. But by keeping him on the ticket, they drove away those who didn't want to be associated with a corrupt politician.
At the eleventh hour - just three weeks before the first round - Lula was replaced by Fernando Haddad but he still played a key part in the campaign. Lula's name, face and influence were everywhere.
After the second round, they dropped Lula from the campaign material and changed the colours of the campaign material from red to green, yellow and blue. But by that time it was too late, the die was cast.
So now Mr Bolsonaro has won, will his obsession with the left disappear? In a Facebook live after the results, the politician vowed to change the country.
"We couldn't keep on flirting with communism, populism and left-wing extremism," he said. "We all knew where Brazil was heading."
That message, say experts, set the tone for what's to come.
"There will be no truce for the opponents and it will be a government of confrontation with all who are identified as the opposition," says Claudio Couto, a politics professor at the Getulio Vargas Foundation. "At no point does he speak of conciliation, dialogue, or understanding."
His fiery rhetoric scares many and his victory ushers in a new, more fearful era for the country.
Mr Bolsonaro has talked fondly of the country's former military dictatorship. I've spoken to dozens of people who back him up, believing the dictatorship wasn't a bad period, just a time of order and respect. It's a hugely controversial view that divides Brazil.
"We already had a dictatorship and people keep denying it happened but it did," says Daniel Figueiredo Velho, who voted for Fernando Haddad. "Torture, killings, repression, no liberty of expression. We shouldn't make the same mistakes history told us not to make."
There's also fear of growing intolerance, with Brazil's new leader having made sexist, homophobic and racist comments in the past.
"Although I didn't totally agree with what the Workers' Party did, I think we are now living in a moment of a lot of hate and we shouldn't support that," says Andressa Couto. "I fear for other people - poor people, black people, gay people. People are doing things in the streets in the name of Bolsonaro and that scares me."
Is there a chance he could soften his stance, now he's won power? Few experts believe it. You only need to look to another firebrand in the continent for guidance.
"The things that Donald Trump outlined and the signals that he gave during the campaign he carried through with," says Kyle Pope of the Columbia Journalism Review, who has studied parallels between Brazil's new president and the leader of the US.
"Anyone who thinks this is a short-term gain or that he's going to come in and combust, that's not only not our experience with Trump but doesn't really hold up around the world."
Many say a comparison with Mr Trump is inaccurate. Instead, they say Mr Bolsonaro is more akin to Rodrigo Duterte of the Philippines.
Whatever the comparison, what is clear is that country's sharp swing to the right will resonate beyond Brazil as another populist takes power.
And the opposition will redouble efforts not to take away the gains that country's made since it returned to democracy 30 years ago.
The future looks messy for Brazil.