Brazil's Jair Bolsonaro makes top judge Sergio Moro justice minister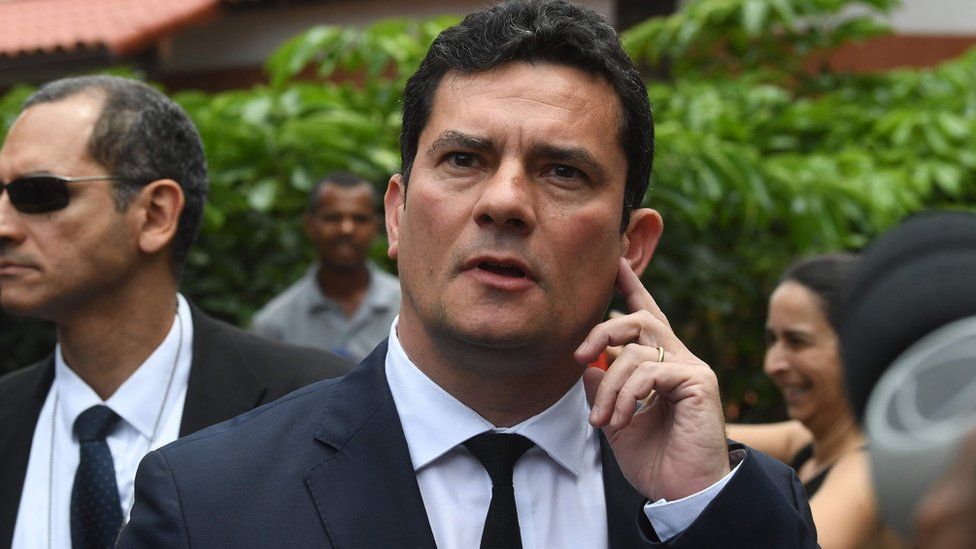 Brazil's far-right President-elect Jair Bolsonaro has convinced prominent anti-corruption judge Sergio Moro to lead the country's justice ministry.
Mr Moro said on Thursday it was an "honour" to be asked to be the minister overseeing justice and public security.
But his appointment is likely to fuel allegations that his high-profile anti-fraud probe was politically motivated.
Operation Car Wash, as his inquiry was known, was accused of unfairly targeting left-wing politicians.
Mr Bolsonaro won a sweeping election victory earlier this week.
He is a polarising figure, whose praise of Brazil's former dictatorship and comments on race, women and homosexuality have raised concerns.
Mr Bolsonaro made it known earlier this week that he wanted Mr Moro to be justice minister, saying he was a person "of extreme importance in a government like ours".
The two men met in Rio de Janeiro on Thursday.
"Federal Judge Sergio Moro has accepted our invitation to be minister of justice and public security. His anti-corruption, anti-organised crime agenda and his respect for the constitution and the law will be our guiding principle!" Mr Bolsonaro tweeted.
Mr Moro later confirmed in a statement that he had "accepted the invitation as an honour".
The federal judge was in charge of Operation Car Wash, a major investigation into claims that executives at the state oil company Petrobras accepted bribes in return for awarding contracts to construction firms.
He uncovered a huge web of corruption involving top-level politicians from a broad spectrum of parties.
His crusade against corruption has made him a hero to many, but others accuse him of disproportionately targeting left-wing politicians, especially those in the former ruling Workers' Party.
Former President Lula has repeatedly said he is a victim of a political witch-hunt.
Mr Moro, who in 2016 told newspaper O Estado de S. Paulo that he would never enter politics, has said he will now hand over his investigative work to other judges.
The new 'super ministries'?
The president-elect is seeking to reduce the number of government ministries by merging some departments to create "super ministries".
However, on Thursday, Mr Bolsonaro said he may have changed his mind about the environment ministry and he could keep it separate.
What is Mr Bolsonaro likely to do in office?
Mr Bolsonaro has pledged to loosen Brazil's gun laws. He insists that more widespread gun ownership will help to cut crime, but critics warn that such a move will only worsen violent crime in Brazil.
The president-elect has also said he will:
withdraw government advertising from media outlets he judged to be "lying"
open up protected land to road and infrastructure projects
narrow the budget deficit and privatize state firms
On Thursday, he reiterated his intentions to transfer the Brazilian embassy in Israel from Tel Aviv to Jerusalem, mirroring the move by US President Donald Trump.
Israeli Prime Minister Benjamin Netanyahu called Mr Bolsonaro's plan a "historic, correct and exciting step".
It remains unclear whether Mr Bolsonaro will be able to see all his policies pass through Congress after he takes office in January.
You may also be interested in: