Dos Erres massacre: Ex-soldier sentenced for killing 171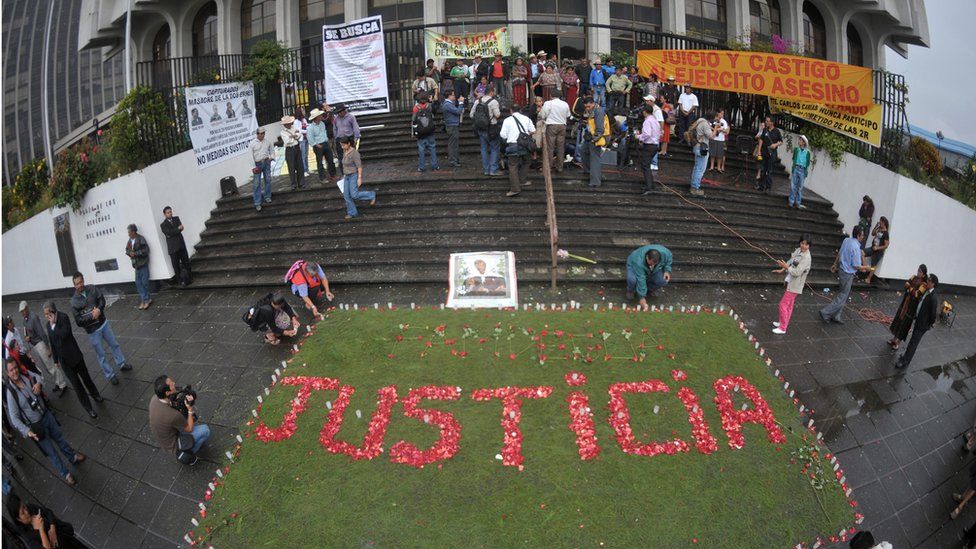 A Guatemalan former soldier has been sentenced to more than 5,000 years in prison for his role in a massacre during the country's civil war.
More than 200 people were killed in the village of Dos Erres in 1982, one of the most violent episodes in Guatemala's brutal 36-year conflict.
Santos López was found responsible for 171 of the deaths.
He was a member of the Kaibiles, a US-trained counter-insurgency force fighting left-wing guerrillas.
López was sentenced to 30 years for each of the 171 killings committed in the village and to an additional 30 years for his role in the murder of a girl who had originally survived.
Under Guatemalan law, however, the maximum time any person can spend in jail is 50 years.
The special unit of the Guatemalan army stormed the village in the north of the country on 6 December 1982.
The Kaibiles suspected the villagers of sympathising with left-wing guerrillas who had two months earlier carried out an ambush on a nearby army patrol, leaving 21 soldiers dead.
Even though the soldiers' search of the village did not uncover any of the weapons the guerrillas had seized during the ambush, the Kaibiles proceeded to kill the village's inhabitants.
Guatemala's civil war 1960-1996
The conflict pitted left-wing, mostly Mayan insurgents against the state
The Guatemalan government, backed by the US, waged a vicious campaign to eliminate the guerrillas
More than 200,000 people, most of them indigenous Mayan civilians, were killed or disappeared
Over several days, the soldiers systematically shot or bludgeoned to death hundreds of men, women and children. They disposed of most of the bodies by throwing them down a well.
One of the few survivors, a three-year-old boy called Óscar, was abducted by one of the soldiers and raised by the soldier's parents.
The search for the boy by a prosecutor investigating the massacre was the subject of a 2017 documentary called Finding Oscar.
Apart from Santos López, five other former soldiers have so far been convicted for their roles in the killings at Dos Erres.
The massacre happened during the brief rule of military strongman Efraín Ríos Montt, who was accused of ordering the killing of more than 1,700 ethnic Mayans during a civil war.
He died in April aged 91 while on trial on charges of genocide.