Juan Guaidó: The man who wants to oust Maduro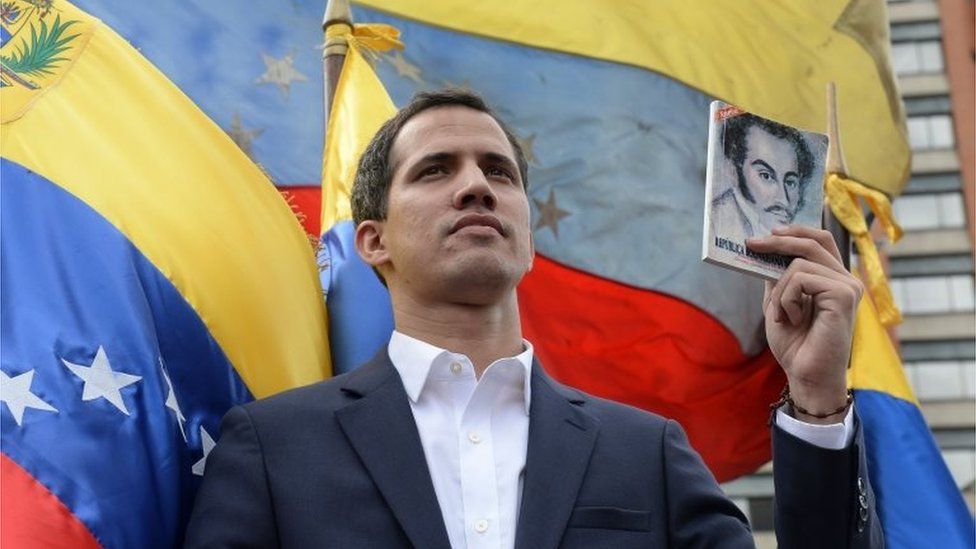 On 23 January 2019, a little-known Venezuelan lawmaker took the oath of office declaring himself interim president in front of a crowd of cheering supporters in central Caracas.
It was a bold move by the youngest person to have been elected to lead the National Assembly. Thirty-five years old at the time, Juan Guaidó was chosen for the post after better-known candidates were arrested or had gone into political exile.
In a rousing speech, he argued that the 2018 re-election of President Nicolás Maduro was illegitimate and that the presidency was vacant.
With the constitution in hand, he said it was now up to him as the Speaker of the National Assembly, the only institution controlled by the opposition, to lead the country out of the economic and political crisis it was mired in.
He promised an "end to the usurpation [of President Nicolas Maduro], [to create] a transitional government and have free elections".
He was quickly recognised as the legitimate leader by the US, Venezuela's neighbours Brazil and Colombia and many other Latin American countries. The list of nations siding with the young lawmaker soon grew to more than 50.
Many Venezuelans cheered him and his prediction that he would be governing from the presidential palace "within months". They also applauded his promise to bring in humanitarian aid to alleviate widespread shortages of basic goods.
But a plan to deliver US-backed aid in trucks from Colombia into Venezuela on 23 February 2019 turned out to be one of his first major setbacks.
The government of President Maduro blocked the border crossing and chaotic scenes ensued during which a truck caught fire.
Many supporters of Mr Guaidó were disappointed when the promised aid did not reach them and attendance at rallies he called dwindled.
A little over two months later, on 30 April 2019, Mr Guaidó appeared in a video surrounded by men in uniform and declared that members of the "military family" had joined him to bring about "the definitive cessation of the usurpation".
But his attempt at getting the armed forces to switch sides failed as only a few dozen soldiers joined him. The government of Nicolás Maduro labelled it an attempted coup and cracked down even harder on the opposition.
Mr Guaidó came under further criticism from parts of the opposition for sending representatives to exploratory talks with the Venezuelan government held in Norway.
The talks quickly stalled with Mr Guaidó's detractors saying it was further proof that he lacked the decisiveness necessary to oust Mr Maduro.
A year on from his election as Speaker, the limits of Mr Guaidó's powers were brought into sharp focus when the National Guard barred him from entering the National Assembly building.
Government supporters ridiculed Mr Guaidó for failing to clamber over the metal railings surrounding the building as police pushed him back. They said the scene was "ridiculous" and that he had been "humiliated".
But the scenes of police in riot gear surrounding the legislative palace and denying entry to an elected parliamentarian had a very different effect outside of Venezuela.
It thrust Mr Guaidó back into the limelight and governments which had not come out in his support previously, such as Mexico, did and condemned the harassment he had suffered.
Following his re-election as Speaker, Mr Guaidó defied a travel ban against him to slip across the border to Colombia, where he was received with full presidential honours.
He also embarked on a tour of Europe to drum up support for "concrete measures" to remove Mr Maduro from office.
But with Mr Maduro boasting to the Washington Post that he has "outfoxed" his opponents it is hard to see how Mr Guaidó can make good on his promise to remove the socialist leader from office in the short term.