Venezuela crisis in 300 words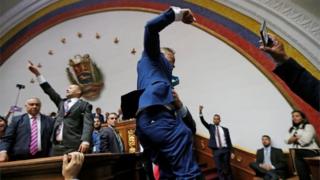 Venezuela is engulfed in a political crisis with two rival politicians claiming to be the country's legitimate leader.
How did this happen?
Venezuela has been governed for the past 20 years by the socialist PSUV party. From 1999 to his death in 2013, Hugo Chávez was president. He was succeeded by his right-hand man, Nicolás Maduro.
During its two decades in power, the PSUV has gained control of many key institutions including much of the judiciary, the electoral council and the supreme court.
But under President Maduro, Venezuela's economy collapsed. Shortages of basic supplies became widespread, prompting 4.5 million people to leave.
In December 2016, opposition parties won a majority in the National Assembly, and the legislature became a thorn in President Maduro's side.
In response, he created the National Constituent Assembly, made up exclusively of government supporters whose powers supersede those of the National Assembly. The two bodies have been at loggerheads ever since.
Mr Maduro was re-elected in 2018 but the poll was widely dismissed as rigged. National Assembly leader Juan Guaidó labelled Mr Maduro a "usurper" and declared himself interim president in January 2019.
More than 50 countries recognised Mr Guaidó but the military has remained loyal to Mr Maduro.
Mr Maduro's government has been trying to weaken opponents through a "divide and rule" strategy.
On 5 January, police prevented Mr Guaidó from attending a parliamentary session in which he was standing for re-election as National Assembly leader.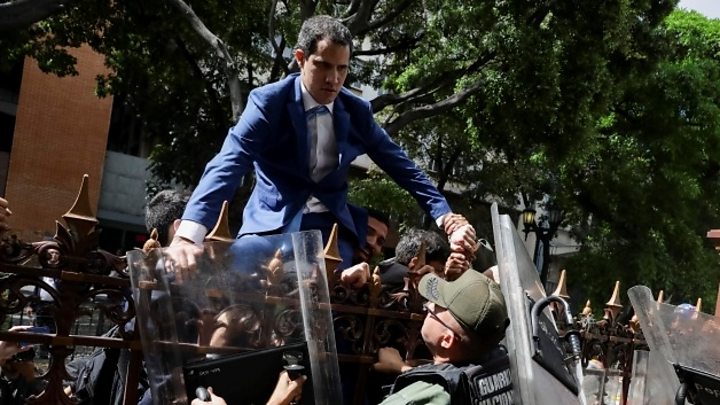 While Mr Guaidó and other opposition lawmakers were held back, a rival politician, Luis Parra, was elected without a quorum but with the backing of government lawmakers.
Undeterred, Mr Guaidó moved the session to another location where about 100 lawmakers re-elected him, leaving Venezuela not just with two men claiming the presidency but also with two National Assembly leaders.
Want to know more?