Venezuela crisis: Juan Guaidó deputy arrested in Caracas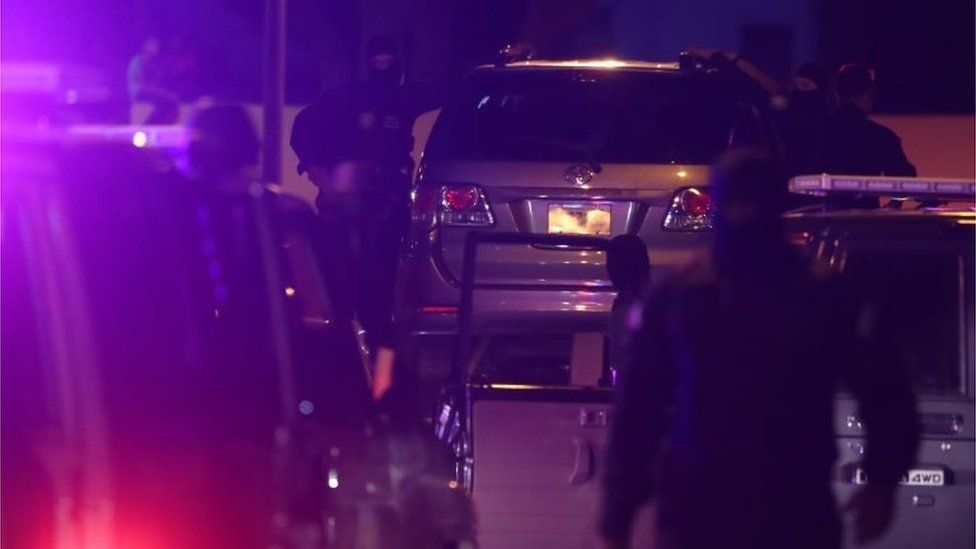 The deputy of Venezuelan opposition leader Juan Guaidó has been detained by the country's intelligence services.
Edgar Zambrano, vice-president of the National Assembly, refused to leave his car when approached, and as a result he and his car were towed to prison.
It is the first arrest of a senior opposition figure since attempts to spark a military rebellion against President Nicolás Maduro last week.
Mr Guaidó is recognised as "interim president" by more than 50 nations.
Democratic Action party leader Carlos Prosperi told reporters that he had been at a party meeting with Mr Zambrano in the capital Caracas moments before the latter was arrested by agents from Venezuela's Bolivarian Intelligence Service (Sebin).
"The vehicle was surrounded," he said. "They [Sebin agents] wouldn't allow us to get to him. They brought a tow truck and his vehicle was towed away."
Venezuelan online television channel VPI posted footage of the moment Mr Zambrano was towed on Twitter.
Mr Prosperi said that he believes Mr Zambrano was taken to El Helicoide, a notorious prison in the centre of the city.
"We don't know anything about what physical condition he's in and we don't know what is happening at El Helicoide at the moment," he said.
The arrest comes a day after Venezuela's Supreme Court ordered that Mr Zambrano and six other National Assembly deputies be charged with treason for their alleged participation in the failed military uprising.
Read more about Venezuela's crisis:
The court asked the National Constituent Assembly (ANC), a body convened by President Maduro and made up exclusively of his supporters, to lift the parliamentary immunity of the lawmakers, which the ANC promptly did.
Since then, three more opposition lawmakers have been charged and their immunity is expected to be lifted within days.
They are: Freddy Superlano of the Democratic Action party, Sergio Vergara and Juan Andrés Mejía, who both represent the Popular Will party.
What reaction has there been?
Mr Guaidó called Mr Zambrano's arrest - in particular the towing of his car - "absurd" in a tweet he posted shortly after the incident.
There was also swift reaction from the officials from the US, a country which has been one of the strongest supporters of Mr Guaidó.
On the Twitter account of its "virtual" embassy in Caracas - the embassy closed in March amid growing tensions - the US called the detention "illegal and inexcusable" and warned that if he was not released immediately, there would be consequences. However, the tweet did not spell out what those consequences would be.
Skip twitter post 2 by Embajada Virtual de los EE.UU., Venezuela
La detención arbitraria del diputado @edgarzambranoad por las fuerzas de seguridad opresoras de Maduro en Venezuela es ilegal e inexcusable. Maduro y sus cómplices son los responsables directos de la seguridad de Zambrano. Si no es liberado de inmediato, habrá consecuencias.

— Embajada Virtual de los EE.UU., Venezuela (@usembassyve) May 9, 2019
The BBC is not responsible for the content of external sites.
End of twitter post 2 by Embajada Virtual de los EE.UU., Venezuela
The EU said Mr Zambrano's arrest was "another flagrant violation" of Venezuela's constitution and described it as "a politically motivated action aimed at silencing the National Assembly".
Argentina, Chile, Colombia and Peru have also called for Mr Zambrano's release.
Meanwhile, the head of the National Constituent Assembly, Diosdado Cabello, boasted about the arrest on his TV show.
To the applause and loud cheers of government supporters, he mocked the lawmaker, saying that he would have to pay for the towing of his vehicle.
Earlier Mr Cabello called Mr Zambrano "one of the principal conspirators of the coup" and said that he and his "co-conspirators" would have to "pay before the courts for the failed coup that they have attempted".
Mr Guaidó declared himself Venezuela's acting leader in January. As the head of the opposition-controlled National Assembly, he invoked the constitution to assume as the position of interim president, arguing that Mr Maduro's re-election last year was illegitimate.
Since then, tension between those who support Mr Guaidó and those who back Mr Maduro has increased. The military is seen as holding the key to the balance of power.
On 30 April, in a video recorded near an air force base in Caracas, Mr Guaidó called on the military to help him oust President Maduro.
Mr Zambrano was one of the lawmakers seen in later footage talking to Mr Guaidó on a flyover near the air force base. Mr Cabello said that was "enough to prove his involvement".
While a small group of uniformed men joined Mr Guaidó, the top brass of the military quickly declared its loyalty to President Maduro and the status quo was maintained.
Mr Guaidó has since told the BBC he would consider asking the US to stage a military intervention.