Venezuela's Maduro proposes early National Assembly vote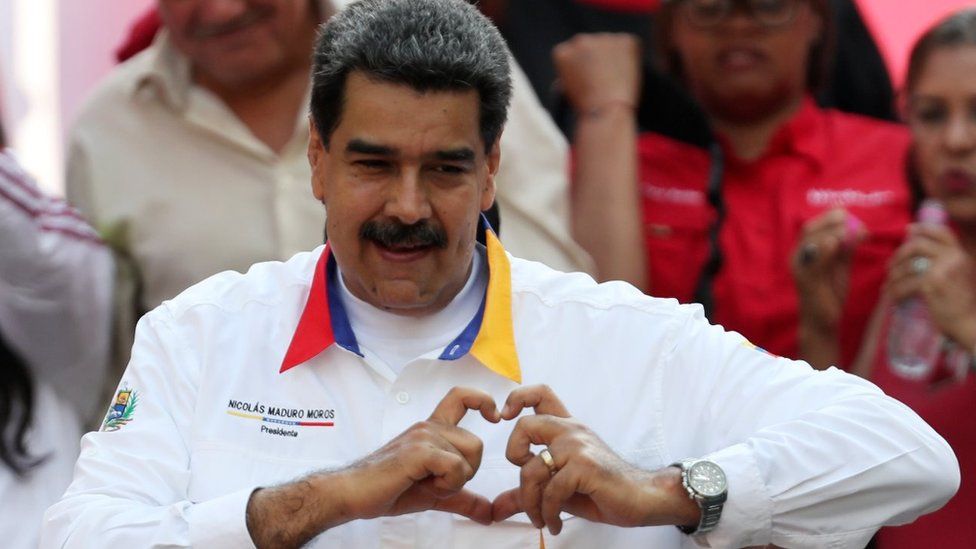 Venezuela's President Nicolás Maduro has proposed bringing forward next year's election for the opposition-controlled National Assembly.
National Assembly President Juan Guaidó dismissed the proposal as "a farce".
The two men have been at loggerheads since January when Mr Guaidó declared himself interim president, arguing Mr Maduro's re-election was fraudulent.
Talks between the two sides via international mediators are under way in the Norwegian capital, Oslo.
What did President Maduro say?
President Maduro made the proposal while he was addressing a crowd of supporters on the anniversary of his re-election in 2018.
Read more about Venezuela's crisis:
"Let's hold elections [for the National Assembly]. Let's [have] a peaceful solution, electoral, democratic, constitutional.
"We are going to measure ourselves electorally, we are going to bring forward elections to the National Assembly," he said without giving a date.
Mr Maduro has in the past suggested bringing forward the National Assembly elections but then not acted on it.
Large crowds wearing red T-shirts bearing the governing party's PSUV logo cheered and waved banners.
Mr Guaidó also expressed his opposition to the proposal on Twitter.
Referring to the opposition's boycott of the presidential election in 2018 which Mr Maduro went on to win, he wrote: "On 20 May 2018 we showed that we don't take part in a farce.
"A new farce would only worsen the crisis we're in. Only by putting an end to the usurpation and with a clear referee will there be free elections," he added, reiterating the opposition's demand for President Maduro to step down and for presidential elections to be held.
What's the role of the National Assembly?
The National Assembly is the legislative body in Venezuela. In parliamentary elections in December 2015, opposition parties won a majority and have since been in control.
Under normal circumstances, National Assembly lawmakers pass legislation and approve the government's budget.
However, the National Assembly became sidelined when President Maduro convened a National Constituent Assembly two years ago.
What's the National Constituent Assembly?
The National Constituent Assembly is made up exclusively of government supporters and its powers supersede those of the National Assembly.
It was ostensibly created to draw up a new constitution but since it started meeting in August 2017, it has not debated any suggested changes to the constitution.
Instead it stripped 14 members of the National Assembly of their parliamentary immunity, some of whom have since been arrested on charges of treason while others have sought refuge in foreign embassies.
Meetings of the National Constituent Assembly regularly end with members shouting "long live Maduro!" and other pro-government slogans.
Mr Guaidó has been recognised as interim leader by more than 50 nations, including the US and most in Latin America but Mr Maduro retains the loyalty of most of the military and important allies such as China and Russia.
Last month, Mr Guaidó led a failed attempt to spark a military rebellion against Mr Maduro, which the latter said was part of a US-orchestrated coup against his government.
Under the Maduro government, the economy has collapsed and shortages of food and medicines have become widespread. According to the United Nations refugee agency (UNHCR), there are currently about 3.7 million refugees and migrants from Venezuela worldwide.
On Tuesday, the UNHCR said it believed the majority of those fleeing the country were in need of international refugee protection.
On Thursday, news emerged that opposition and government representatives had travelled to Norway to take part in talks to try to solve the crisis.
Mr Guaidó has said that the talks are in the "exploratory phase" and that there have been no face-to-face meetings.