Cocaine smuggling: The bizarre tactics used to hide drugs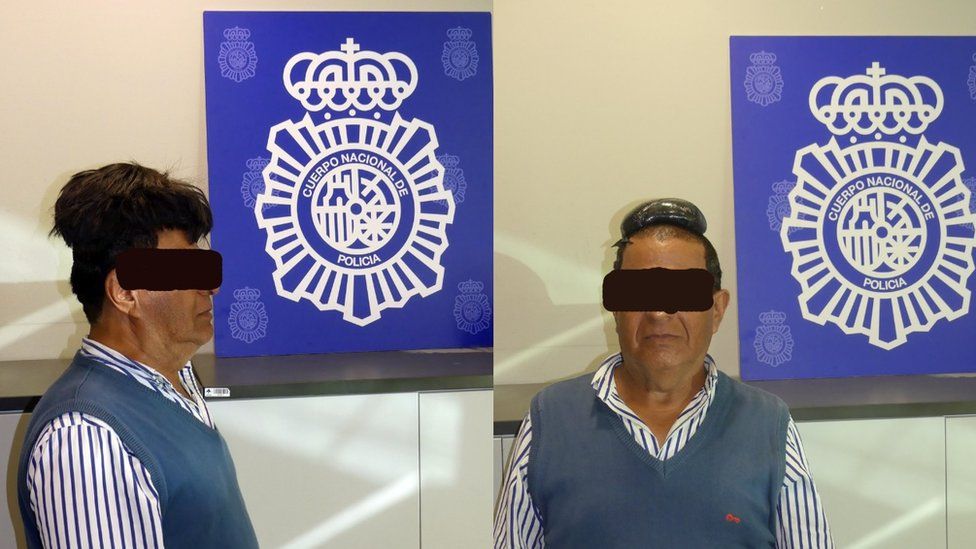 Some drugs smugglers will go to extreme lengths to ensure their illegal cargo avoids detection and reaches its intended destination.
But sneaking drugs under the noses of authorities can be a risky business, as a Colombian cocaine smuggler discovered this week.
The man was caught at Barcelona's Josep Tarradellas Airport with 0.5kg (1.1lb) of cocaine, estimated to be worth around €30,000 (£27,000), police said.
Officers did not have to look hard for the package, which was nestled under his ill-fitting toupee.
Suspected drug traffickers in Brazil didn't have much luck this week either. Unwitting customers bought soap boxes containing cocaine at a supermarket in Sao Paulo.
Those customers tipped off police, who later seized an estimated 80kg (176lb) of the drug from the shop.
Detectives believe soap powder boxes stuffed with the drug were put on the shelves by mistake.
There have been many other brazen drug smuggling tactics down the years which have also failed to fool the authorities.
A Brazilian man made an outlandish bid to smuggle drugs into Portugal in 2018 and was arrested at Lisbon's international airport, accused of carrying 1kg (2.2lb) of cocaine inside a pair of fake buttocks.
The two cushion-like implants, which were attached to swimming trunks, contained at least 5,000 individual portions of cocaine.
The Iberian Peninsula is a major entry point for cocaine to Europe.
But drug smuggling operations are regularly disrupted. In 2018, police in Portugal and Spain seized 745kg (1,642lb) of cocaine hidden inside fresh pineapples.
The drugs had been transported from South America.
Given their pious commitment to religion, nuns are not typically associated with drugs smuggling.
Hence, in 2013, three women from Colombia attempted to take advantage of nuns' squeaky-clean reputation.
The women, who were disguised as nuns, were arrested with 2kg (4.4lb) of cocaine each strapped to their bodies at a Colombian airport.
The fake nuns were searched after police saw them acting suspiciously.
In 2018, a large container ship carrying meat from Brazil was due to dock in Algeria's western port of Oran.
For three days the ship's captain refused to make port, arousing the suspicion of Algerian authorities.
Acting on a tip-off, the Algerian coastguard forced the boat - the Liberian-registered Vega Mercury - into port.
On board, authorities found more than 700kg (1,543lb) of cocaine in boxes marked "halal meat".
In 2010, Colombian police found 16kg (35lb) of cocaine inside replicas of three sculptures by artist Fernando Botero.
The cocaine, which was being shipped to Spain, had been mixed into the clay of the sculptures as they were being cast, police said.
A police statement described the smuggling attempt as a "sophisticated concealment system".