Venezuela blackout: Power cuts plunge country into darkness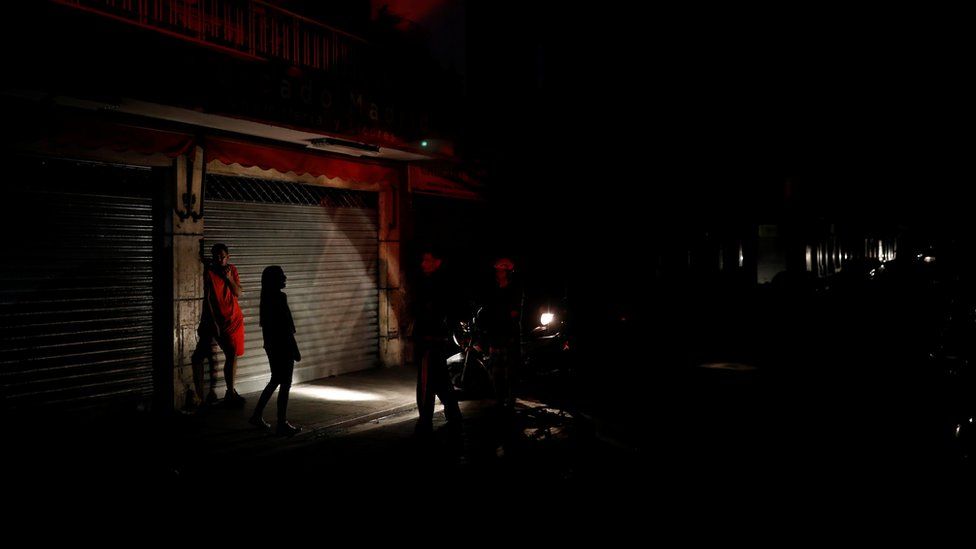 Venezuela has been hit by another massive power cut with the capital, Caracas, among the areas affected.
Power was slowly being restored after the blackout reportedly hit 16 of the country's 23 states as well as Caracas.
Information Minister Jorge Rodríguez claimed the power cut was caused by an "electromagnetic attack" without providing evidence.
In March, the country was hit by a series of blackouts, including one that affected all states and lasted a week.
Sporadic blackouts are common in crisis-hit Venezuela, where decades of underinvestment have damaged the country's power grid.
The blackout, which started at 16:45 local time (20:45 GMT) on Monday, caused a massive gridlock in Caracas as traffic lights lost power. Sidewalks were crowded with pedestrians after the city's metro stopped running.
Power was restored in the capital and some other parts of the country in the early hours of Tuesday local time, state-owned power company Corpolec said.
But workplaces and schools were due to remain closed during the day as the government urged people to stay home.
"These blackouts are catastrophic," 51-year-old janitor Bernardina Guerra, who lives in Caracas, told Reuters news agency. "I live in the eastern part of the city and there the lights go out every day. Each day things are worse."
Venezuela depends on its vast hydroelectric infrastructure, rather than its oil reserves, for its domestic electricity supply.
In a statement, Mr Rodríguez said the alleged attack "sought to affect the hydroelectric generation system of Guayana", the southern state where the important Guri dam plant is located.
On Twitter, President Nicolás Maduro claimed the blackout was the result of a "new criminal attack on the tranquillity and peace of the homeland" and said the armed forces had been deployed for relief efforts.
But opposition leader and self-declared interim president Juan Guaidó said it was the result of "corruption and inability of the regime".
The latest blackout follows an hours-long outage in April that plunged large swathes of the country, including Caracas, into darkness.
President Maduro and other government officials have in the past blamed "terrorism" and opposition sabotage, often claiming US involvement. Other alleged reasons include:
An iguana that bit through a high-voltage cable, a reason given by Corpoelec to explain a power cut in the north-east of the country in 2010
"Animals such as rats, mice, snakes, cats, squirrels" getting into the hydroelectric system's substations, as claimed last October by Electricity Minister Luis Motta Dominguez
The country's position near the Equator, as senior official Lisandro Cabello alleged in June 2018, saying the fact that "we're very close to the Sun" means more intensive use of power in Venezuela than in other countries
What's happening in Venezuela?
Mr Guaidó and President Maduro have been at loggerheads since January, when the former invoked the constitution and declared himself interim president.
Mr Guaidó argued that the elections which had returned Mr Maduro to power for a second term in 2018 had not been free and fair.
Since then, more than 50 countries, including the US and most nations in Latin America, have recognised Mr Guaidó as Venezuela's legitimate leader.
But Venezuela's military - a powerful force in the country - and influential allies such as China and Russia have stuck by Mr Maduro.
An attempt by Mr Guaidó to get the military to switch allegiance to him failed, and the country remains in limbo with both men claiming to be the legitimate president.
Meanwhile, a severe economic crisis has exacerbated and shortages of food and medicines have grown even more acute. United Nations figures suggest four million people have fled the country since 2015.
Venezuela's government blames the shortages on US sanctions but the opposition says they are down to years of mismanagement.
Preliminary talks between Mr Guaidó and President Maduro were held in Oslo in May, but they petered out without an agreement. However they resumed earlier this month in Barbados, with the Norwegian foreign ministry again acting as a mediator.