Hurricane Dorian: Path of destruction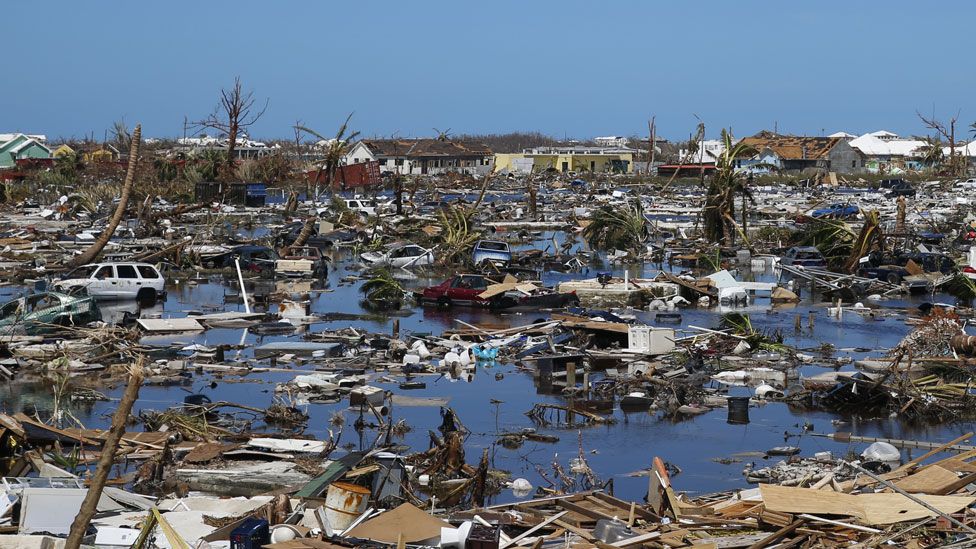 Hurricane Dorian - the most powerful storm to hit the Bahamas since records began - has left widespread devastation, at least 43 dead and many more still missing days after the storm passed.
Powerful winds, rain and surges of sea water caused by the category five storm pummelled the islands for three days as it slowly edged towards the United States.
The storm then headed northwards, triggering warnings of high winds and storm surges in the Carolinas before battering Canada's Nova Scotia province as a post-tropical cyclone - still driving winds of 100mph (160km/h).
When Dorian hit the Abacos Islands in the north of the Bahamas on 1 September, sustained winds reached 185mph (298km/h).
The main towns were flooded by storm surges, metres above normal sea levels. The powerful winds and water ripped houses apart, tore boats from moorings and dragged vehicles and debris across the islands.
At least 43 people died as a result - 35 in the Abaco Islands and eight in Grand Bahama, but numbers are expected to be much higher as hundreds of people are still missing.
Dorian's slow progress - only one mile an hour at times - concentrated the storm over the islands, exacerbating the extent of the damage.
On the Abacos, thousands of houses were levelled, telecommunications torn down and roads and wells damaged, the UN reports.
Bahamas Minister of National Security Marvin Dames said the devastation in the Abaco Islands' Marsh Harbour was "beyond what anyone can imagine".
"Many of the homes have been totally destroyed and so we're going to certainly need, as a government, and a people, a massive rebuilding strategy, a plan, after all of this. It's very sad."
The government has warned the death toll will be "staggering".
Aerial images over the Abacos showed miles of destruction, with roofs torn off, scattered debris, overturned cars, shipping containers and boats, and high water levels.
The worst-hit island, Great Abaco, is described as virtually uninhabitable, with no water, power or food, and militias patrolling the streets to stop looting.
Survivor Ramond King, from Marsh Harbour, said everything was gone.
"Yes, I did witness the storm, I was in the front room and I watched a tornado carry my roof," he told Reuters. "I was just there, like: this can't be real, this can't be real."
Many people in Grand Bahama were forced to flee to the roofs of their homes to escape the rising flood waters, which covered most of the island at one stage. Floods levels are now said to be receding.
Prime Minister Minnis said while there was widespread destruction, "what was most significant, those homes that were built on stilts were not damaged".
Rescue, relief and recovery operations are now under way. Cruise liners, private planes and helicopters were all being used to help those still trapped in the Abaco Islands and Grand Bahama.
International efforts include help from the Royal Navy's RFA Mounts Bay and HMS Protector, and nine cutters from the US Coast Guard.
Some survivors have been taken to Florida or Nassau, further south in the Bahamas.
As well as dangerous wind speeds, authorities issued warnings of life-threatening storm surges along the whole length of the coasts of Georgia, South Carolina and North Carolina as Dorian left the Bahamas.
Thousands took shelter in Red Cross and community evacuation shelters in the US coast states as a precaution.
Storm surges are caused when huge volumes of water are pushed by hurricane-force winds. When they meet land, the water surges inshore at levels far exceeding normal tides.
At category five, Dorian was the second-strongest Atlantic hurricane on record, with some gusts reaching 200mph (321km/h). It is the fifth Atlantic hurricane to reach the highest category in the last four years.
Hurricane Irma in 2017 was also category five and caused widespread damage across the Leeward Islands, Caribbean and Florida keys, damaging roads, buildings, airports and harbours.
Grand Bahama was also hit by category five Hurricane Matthew in 2016 - many residents had yet to fully rebuild their houses before Dorian's arrival.