Mexico's naked Zapata painting causes protests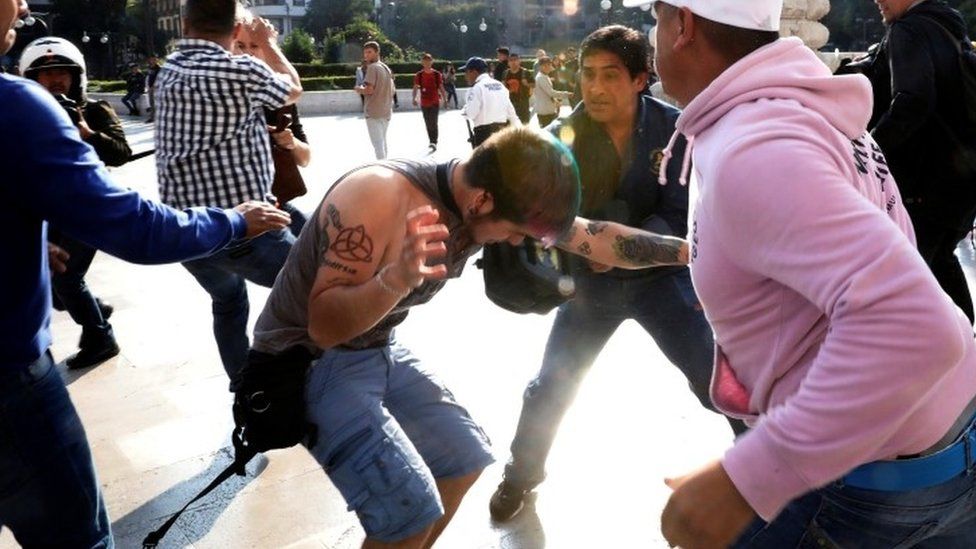 Protesters stormed the Palace of Fine Arts in Mexico City on Tuesday over a painting showing revolutionary hero Emiliano Zapata striking an unconventional pose.
They shouted "burn it, burn it", arguing that the painting, which shows Zapata in high heels and a pink hat naked on an aroused horse is offensive.
Zapata's grandson, Jorge Zapata González, wants it to be removed.
"We are not going to allow this," he told the Associated Press.
"For us as relatives, this denigrates the figure of our general, depicting him as gay," Mr Zapata González said, adding that the family would sue if the painting was not removed.
Emiliano Zapata was a leader in the Mexican revolution before being assassinated in 1919 at the age of 39. He remains a hero in the eyes of many Mexicans.
Among the protesters were many tenant farmers who admire Emiliano Zapata, who was himself a poor farmer, for the stand he took against the appropriation of land by rich landowners.
You may also be interested in:
They demonstrated outside the museum in central Mexico City for hours, some shouting homophobic slurs, which prompted a counter-demonstration by people defending sexual diversity. There were scuffles between the two sides.
"Zapata" has also become a trend on Twitter with tens of thousands of people expressing both their support for diversity and their objection to the painting.
The protesters said that they would block the entrance to the museum until the painting was taken down. The work by Fabián Cháirez, called La Revolución (The Revolution), is part of an exhibition commemorating the 100th anniversary of Zapata's death.
The exhibition showcases 141 works of art from 70 collections. While Fabián Cháirez's 2014 painting has already been on display elsewhere, it was brought to wider attention when the Ministry of Culture used it to promote the exhibition by sharing it on its Twitter and Facebook pages.
Fabián Cháirez said he had the idea for the painting after noticing that in most representations "Zapata's masculinity is glorified".
"There are some people who experience discomfort from bodies that don't obey the rules. In this case, where is the offence? They [the protesters] see an offence because Zapata is feminised," he said.
Luis Vargas, curator of the exhibition, said the painting was simply an artistic representation that sparks debates about issues in Mexican society including homosexuality.
Museum officials have said it will not be removed even though the protesters have threatened to return every day until they get their way.
The exhibition runs until February 2020.