Coronavirus: Brazil's Bolsonaro sees second health minister quit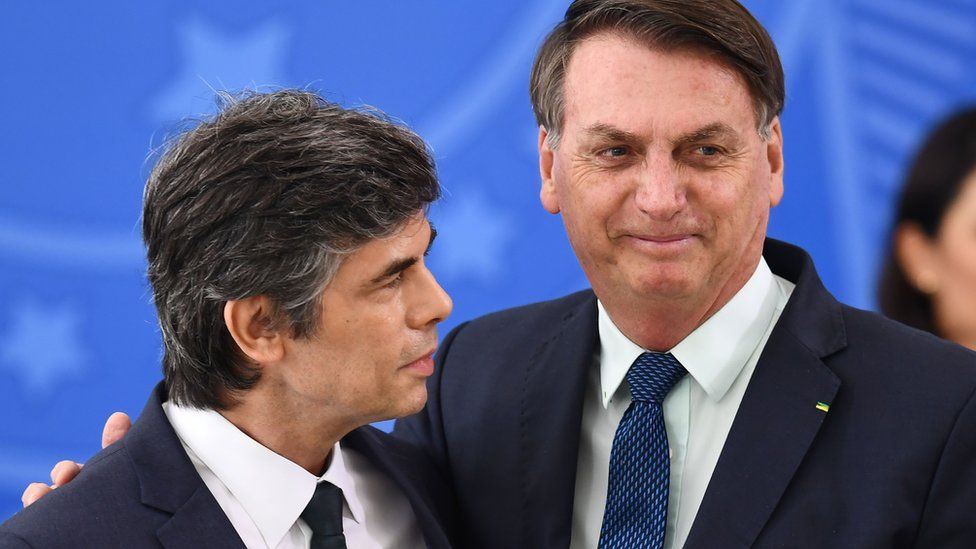 Brazil's health minister has resigned after less than a month in the job following disagreements over the government's handling of the country's escalating coronavirus crisis.
Nelson Teich had criticised a decree issued by President Jair Bolsonaro allowing gyms and beauty parlours to reopen.
However, he gave no reason for his resignation at a press conference.
The far-right president continues to oppose lockdown measures.
He has downplayed the virus as "a little flu" and has said the spread of Covid-19 is inevitable, attracting global criticism.
Brazil has recently surged past Germany and France in terms of its coronavirus caseload, becoming one of the world's hotspots with more than 218,000 cases and a record 15,305 in the last 24 hours. The latest daily figures also showed 824 new deaths recorded, bringing the official death toll to 14,817.
Why did the minister resign?
At his news conference, Mr Teich did not reveal why he had stepped down. He just thanked President Bolsonaro for giving him the chance to serve as a minister and praised healthcare workers.
But he has clashed with the president over several aspects of how the government has dealt with the spiralling epidemic.
He disagreed with the president's desire to widely use chloroquine as a treatment. The drug has gained widespread attention although the World Health Organization (WHO) says there's no definitive evidence it works.
Mr Teich also butted heads with the president over plans to open up the economy, saying last week that he was not consulted ahead of an order that paved the way for gyms, beauty salons and hairdressers to reopen.
He is second health minister to leave the post in under a month. Luiz Henrique Mandetta was fired in April after President Bolsonaro publicly criticised him for urging people to observe social distancing and stay indoors.
To lose one health minister was awkward, but to lose two in less than a month is not only embarrassing for Jair Bolsonaro but deeply worrying for Brazil.
The country has become the latest coronavirus hotspot and rather than politicians trying to tackle it together, the pandemic has turned political and the leader of the country is failing to provide direction for a population which really needs it.
Nelson Teich didn't give any reasons for his departure, merely saying "life is full of decisions and I decided to leave" - but he didn't see eye-to-eye with his boss on the use of chloroquine and his health ministry was excluded this week when Jair Bolsonaro decided to include beauty salons, hairdressers and gyms as essential services.
It appears the job of health minister to Jair Bolsonaro is a thankless task at the moment - but it's a difficult job vacancy at the worst-possible time in Brazil.