Costa Rica celebrates first same-sex weddings after ban lapses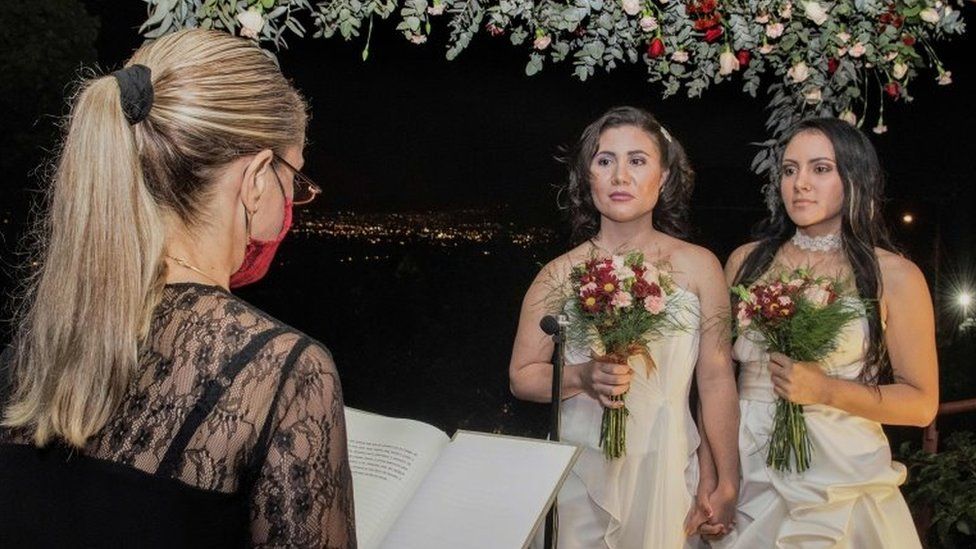 The first same-sex weddings have taken place in Costa Rica since a ban on gay marriages lapsed at midnight.
Costa Rica is the first Central American country to equalise its marriage legislation.
A lesbian couple tied the knot in a ceremony shown on TV that took place just after the ban ceased to apply at midnight.
President Carlos Alvarado said Costa Rica now recognised the rights lesbian and gay people had always deserved.
The same-sex marriage ceremony was broadcast as the culmination of a three-hour programme celebrating marriage equality.
The court gave Costa Rica's parliament 18 months to change the law. It told lawmakers that if they failed to take action, the ban would automatically cease to exist after those 18 months.
Parliament took no action and while evangelical lawmakers tried to further delay the lifting of the ban, it lapsed at midnight.
Enrique Sánchez, Costa Rica's first openly gay member of parliament, welcomed the change and praised those who had spent years lobbying for the same-sex marriage ban to be lifted.
"With their experience, their struggles... they have helped build a society where there are no second-class families or second-rate people," he told Reuters news agency.
Among those who have been fighting for marriage equality are José Chavarría and Rafael Castro, who managed to get married in Costa Rica two years before the ban lapsed.
They were wed by notary and human rights lawyer Luis Roberto Zamora, who argued that Costa Rica's marriage ban had become null and void the moment the Inter-American Court of Human Rights had ruled that countries which have signed the American Convention on Human Rights "must recognise and guarantee all the rights that are derived from a family bond between people of the same sex".
But while Mr Zamora and the couples he married faced the threat of legal action against them, the couples who have married since the ban lapsed at midnight no longer face such threats.
Same-sex marriage is already possible in Argentina, Brazil, Colombia, Ecuador, Uruguay and some parts of Mexico, but Costa Rica is the first country in Central America to allow it.
Clarification 20 May 2022: This article was amended to reflect the fact that a number of same-sex marriages were held before the ban lapsed.