Colombia: Indigenous protesters topple conquistador's statue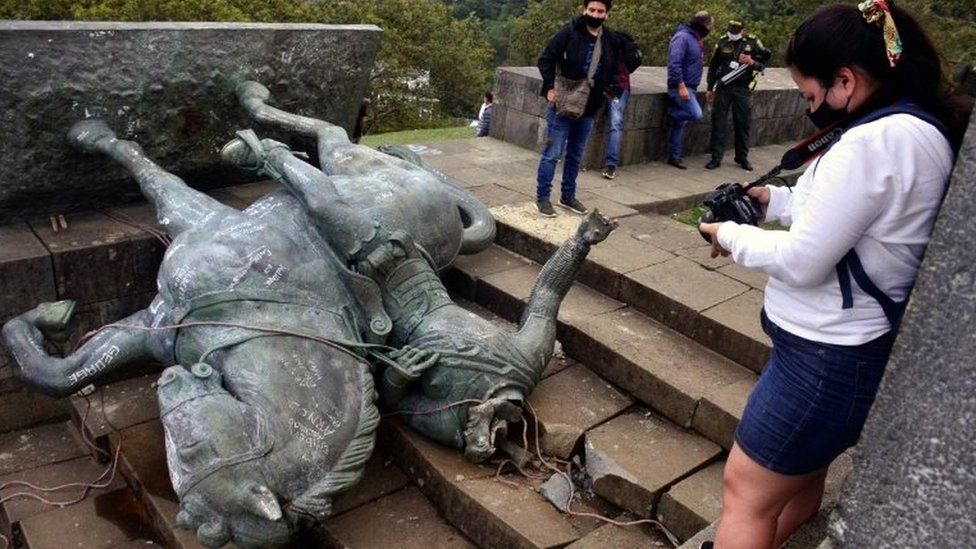 Indigenous protesters in Colombia have toppled a statue of Spanish conquistador Sebastián de Belalcázar in the south-western city of Popayán.
Police looked on as members of the Misak community used ropes to tear down the equestrian figure of de Belalcázar, who founded the city in 1537.
Indigenous leaders said he represented five centuries of genocide and slavery.
Popayán's mayor said it was an act of violence against a symbol of a multicultural city.
Belalcázar led numerous expeditions in north-western parts of South America, also founding what is now Ecuador's capital Quito.
The Misak were joined by members of the Pijao and Nasa indigenous groups in their protest march which led to Morro del Tulcán, the hill where the statue of Belalcázar stood since the 1930s.
The Misak say that before Spanish conquistadors invaded their land, a temple stood at the top of the hill and that it is also the place where many of their ancestors lay buried. They consider it a sacred site.
A regional umbrella group of indigenous peoples released a statement saying they had toppled the statue after putting Belalcázar on trial and finding him guilty of genocide, enslavement, torture, rape and stealing their ancestral lands.
The statement accuses Belalcázar of punishing their ancestors by having them impaled or setting dogs on them.
It demands that Morro del Tulcán be "honoured as a sacred Misak territory".
Key facts about the Misak
Numbers more than 20,000 people
Two-thirds live in Cauca province, in south-western Colombia
Most speak Nam Trik (also known as Guambiano or Coconuco)
Main economic activity is agriculture: growing maize, potatoes and onions
The mayor of Popayán described the toppling of the statue as a "violent act" which he said was completely unjustified.
"Discussions about cultural differences can be had and we've always been willing to allow space for such discussions but this type of violence can't become a tool to express our disagreements," he said.
He added that he would have the statue restored.
As well as being decimated by the Spanish conquistadors during colonial times, the indigenous groups in Cauca province more recently have been caught in the middle of Colombia's decades-long armed conflict.
In light of the attacks, groups such as the Nasa have organised protest marches and in some cases have demanded that security forces leave their land as they argue that their presence attracts rebel attacks.
The toppling of a statue however is a new tactic and comes in the wake of similar such actions during the Black Lives Matter protests in the US and Europe.
Mass protests have taken place across the US and internationally against police brutality and racial inequality.