Argentina Dirty War: Torture and baby theft trial under way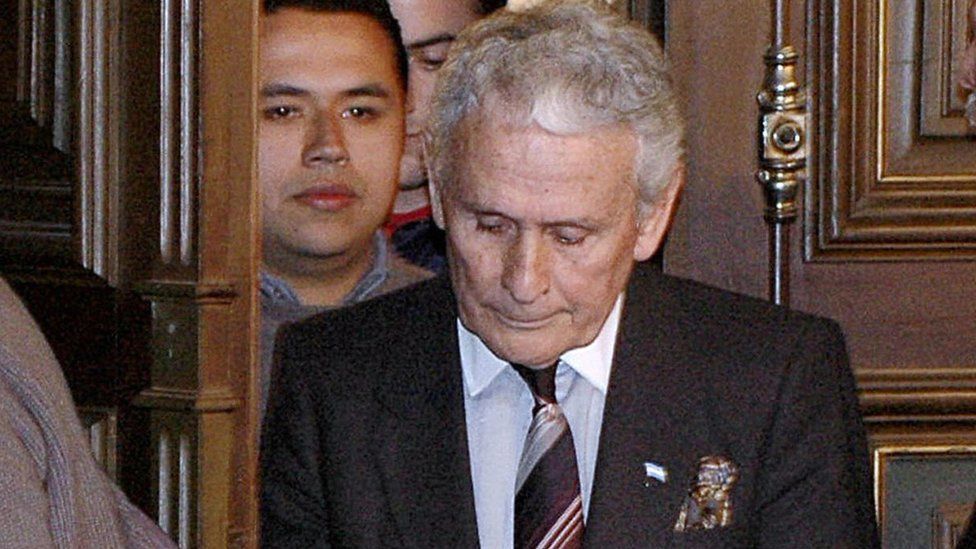 Eighteen people have gone on trial in Argentina on charges ranging from abduction to crimes against humanity.
The prosecution says they were responsible for torture, baby thefts and killings carried out in three detention centres under military rule between 1976 and 1983.
Among those charged is Miguel Etchecolatz, 91, who headed police investigations in Buenos Aires.
He is already in jail serving four life sentences.
The court in the city of La Plata will examine alleged crimes committed against hundreds of people held in the detention centres of Pozo de Banfield, Pozo de Quilmes and Brigada Lanús, which was widely known as El Infierno (Hell).
More than 400 witnesses are expected to give evidence during the trial, which is expected to take at least two years.
The charges against the accused range from illegal deprivation of liberty and sexual abuse to the abduction and concealment of babies, who were born to inmates and then taken from them to be placed with families loyal to the military junta.
As well as Miguel Etchecolatz, those charged include the former interior minister of Buenos Aires province, Jaime Lamont Smart, who was sentenced in a separate case in 2012 to life in prison for crimes against humanity.
Juan Miguel Wolk, who ran Pozo del Banfield detention centre from 1976 to 1979, is also in the dock, as is Jorge Bergés, a doctor who worked for the police in the detention centres.
In 2004, Bergés and Etchecolatz became the first Argentines to be sentenced for baby theft during military rule.
What happened at the detention centres?
The prosecution has described the clandestine centres as "central nuclei of state terrorism" in which people suspected of opposing the military junta were taken to be interrogated, tortured and often killed.
Survivors say detainees were sexually abused and subjected to degrading treatment, some had plastic bags placed over their heads to asphyxiate them while others were given electric shocks or subjected to mock executions.
According to prosecutors, "torture was systematic" and "sexual violence an integral part of the attempts to dehumanise those detained" at the Pozo de Banfield centre.
Survivors say that there was a secret maternity centre at Pozo de Banfield, where pregnant women were taken to give birth, often while shackled, before they had their babies taken from them.
After a military junta led by Gen Jorge Videla seized power in Argentina on 24 March 1976, it began a campaign to wipe out left-wing opponents.
Some 30,000 people were killed or forcibly disappeared during the "Dirty War", as the campaign came to be known.
Children from detained anti-government activists were also seized and given up for adoption. They were often adopted by families of military officials, with the aim of giving them a non-communist upbringing and their identity was concealed.
The Grandmothers of the Plaza de Mayo, a human rights group founded by women searching for their missing grandchildren, has so far managed to identify through DNA testing 130 children stolen from their parents during military rule.
Miguel Etchecolatz, who has written a book giving his version of events during military rule, has shown no remorse.
"I never had, or thought to have, or was haunted by, any sense of blame. For having killed? I was the executor of a law made by man. I was the keeper of divine precepts. And I would do it again," he wrote.