Marcelo Crivella: Rio mayor arrested over bribery claims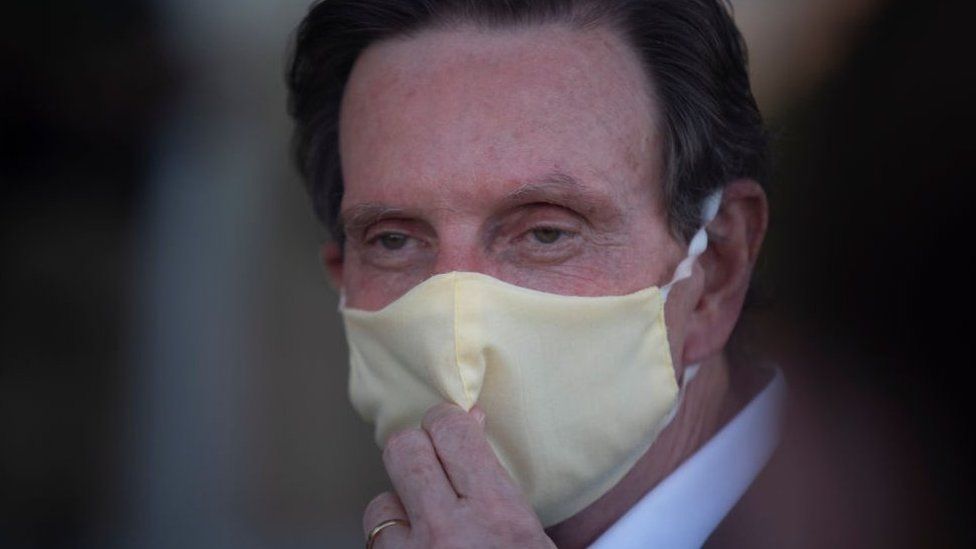 Police in Rio de Janeiro have arrested the city's mayor, Marcelo Crivella.
Mr Crivella, an evangelical pastor who was elected in 2016, was detained at his home at dawn as part of an investigation into an alleged bribery scheme at Rio's city hall.
The 63-year-old conservative stood for re-election this year but lost to centre-right former mayor Eduardo Paes.
Mr Crivella said he was innocent and become the target of a "political persecution".
He had earlier denied any knowledge of the alleged bribes being paid to Rio City Hall.
The mayor, whose term is due to end on 31 December, has seen his popularity plummet since he took office on 1 January 2017. In recent months residents have accused him of mishandling the coronavirus epidemic.
He also drew opposition for his evangelical and conservative views that led to a cut in funding for the city's LGBT pride parade. He has shunned Rio's famous carnival parades which each year attract millions of visitors.
Nevertheless, news of his dawn arrest as part of an operation dubbed "Hades" came as a surprise to Rio's residents.
Police also detained one of his advisers as well as a senior Rio business figure, reports say.
Operation Hades is investigating allegations that companies were asked to pay bribes to secure contracts from Rio City Hall.
Investigators allege that an office at City Hall dubbed "Bribery HQ" oversaw the receipt of the bribes.
Brazil has been mired in bribery scandals at the highest levels of politics and business for years, and arrests of high-ranking politicians on bribery allegations are not unusual.
In October, Senator Chico Rodrigues, an ally of President Jair Bolsonaro, was detained in bizarre circumstances. Brazilian media reported he had been caught with a stack of banknotes hidden between his buttocks, and his lawyer insisted no corruption was involved.