Salvador Cienfuegos: Mexico clears ex-defence minister over US drugs link claims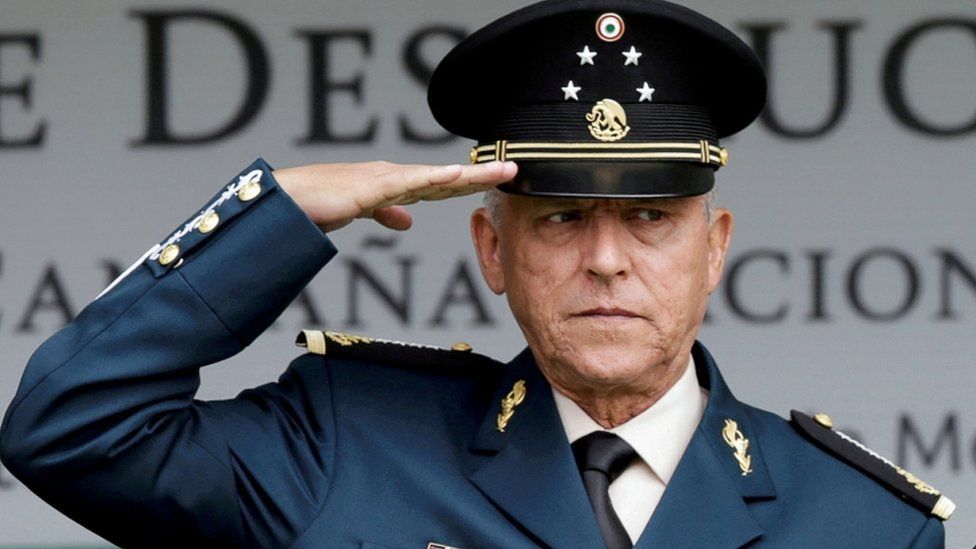 Authorities in Mexico say they will not pursue criminal charges against ex-Defence Minister Salvador Cienfuegos, who was accused by the US of collaborating with a drugs cartel.
The attorney general said there was no evidence Gen Cienfuegos had been in contact with any criminal group.
His detention caused a major diplomatic rift between the US and Mexico.
The Mexican government said the latest decision would help to restore strained ties.
Gen Cienfuegos has always denied any wrongdoing.
On Thursday, a statement by the Mexican attorney general's office said the evidence supplied by US prosecutors showed Gen Cienfuegos "never had any encounters with members of the criminal organisation investigated by US authorities, nor did he maintain any communication with them, or carry out acts tending to protect or help said individuals".
It said there was no evidence he had "used any equipment or electronic means, or that he had issued any order to favour the criminal group identified in this case".
The statement also said there was no evidence that Gen Cienfuegos - defence minister from 2012 to 2018 - had received illegal income.
The decision dismayed Mike Vigil, a former US Drug Enforcement Administration (DEA) chief, who told Mexican broadcaster Milenio: "This is a very big stain on the Mexican justice system."
The DEA had accused Gen Cienfuegos of being the mastermind behind the little-known H-2 cartel. Investigators alleged that he had not only shielded members of the cartel but had also used the Mexican military to launch operations against its rivals.
Senior military figures were reportedly incensed at his arrest in Los Angeles. The Mexican government, which had not been informed of the investigation against Gen Cienfuegos, had threatened to "revise" its relationship with the DEA as a result.
Under diplomatic pressure, the US Department of Justice (DoJ) said he should be investigated in his home country.
A US federal judge later granted the DoJ's request to drop the charges and return him to Mexico.