Dispute over Haiti presidential term triggers unrest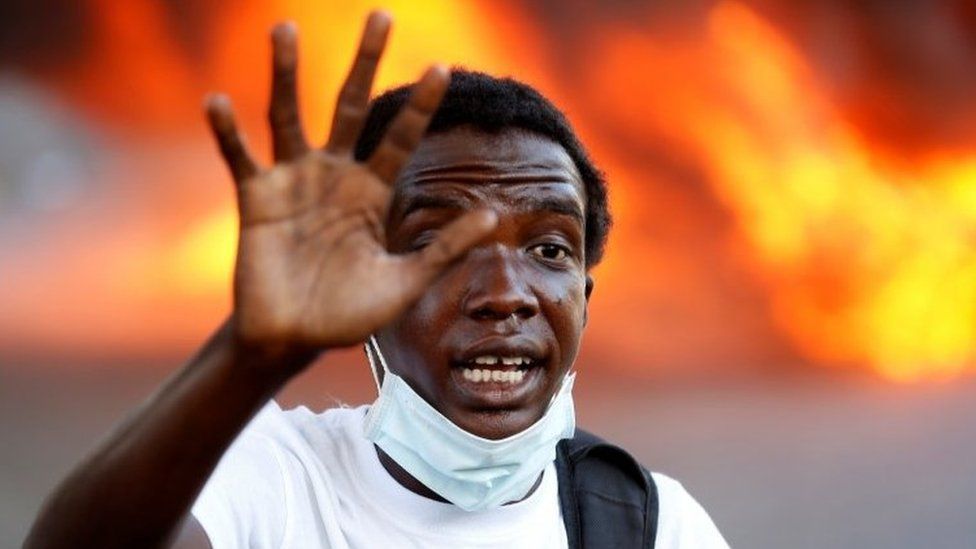 Thousands of people have taken to the streets of the Haitian capital Port-au-Prince and other cities for renewed protests against the government.
They lit barricades of burning tyres and debris, demanding the resignation of President Jovenel Moïse.
Some demonstrators were reportedly injured as police fired rubber bullets to disperse them.
The cause of the Caribbean nation's fresh unrest is a bitter dispute over Mr Moïse's legitimacy.
Haiti's opposition says that Mr Moïse's five-year term should have ended on 7 February 2021, five years to the day since his predecessor in office, Michel Martelly, stepped down.
Mr Moïse, however, insists he has one more year to serve as he did not take office until 7 February 2017.
The year-long delay was caused by allegations of electoral fraud which eventually saw the result of the 2015 election being annulled and fresh polls being held, which were won by Mr Moïse.
Mr Moïse's time in office has been rocky as he faced repeated accusations of corruption and was challenged by waves of often violent anti-government protests.
He has been ruling by decree for the past year after his administration failed to hold scheduled legislative elections in October 2019.
Twenty-three alleged coup-plotters were detained including a senior Supreme Court judge, Ivickel Dabresil. Mr Dabresil had reportedly been chosen by the opposition to act as "provisional president" to replace Mr Moïse.
With Mr Dabresil in detention, the opposition named another Supreme Court judge, Joseph Mécène Jean-Louis, as interim leader.
With Mr Moïse refusing to step down, one Haitian news outlet reported that "Haiti has two presidents".
Mr Moïse's opponents have denied his allegation of a "coup attempt".
They argue that Mr Moïse has "illegally" extended his mandate and that they were therefore justified in choosing a temporary replacement head of state.
Mr Moïse's government called the move an illegal "usurpation" and Mr Moïse issued a decree sending the top members of the Supreme Court, including Judges Dabresil and Jean-Louis, into retirement.
As the Moïse administration strengthened the police presence in Port-au-Prince, especially around the Supreme Court, some local commentators suggested that the sitting president was carrying out his own "counter-coup" to bolster his position and suppress his opponents.
Why does the opposition want Moïse out?
The anti-Moïse opposition - which besides political parties is made up of religious and civil society groups, members of the judiciary and human rights organisations - say the Moïse administration has been chronically "irresponsible" and "corrupt".
They argue this has led to a surge in violent gang crime and kidnappings as well as worsening living standards in a nation where nearly 60% already live below the poverty line.
Critics blame Mr Moïse for the postponement of the legislative elections from October 2019 to October 2021, which has left Haiti without a parliament.
Opponents have also questioned Mr Moïse's use of decree powers to push through his policies.
Mr Moïse meanwhile argues that he is committed to democracy and that he will devote his remaining 12 months in power to organising local, municipal legislative and presidential elections to be held this year.
He is also planning to hold a referendum to overhaul Haiti's constitution, which he argues needs to be modernised.
His critics fear that his intention is to get rid of a clause which bans presidents from serving two consecutive terms in office so he can run again for the top job in September.
How is the crisis playing out on Haiti's streets?
The escalating tension between Mr Moïse and his opponents risks prolonging Haiti's long-running political turmoil and economic deterioration.
The opposition has promised more anti-government demonstrations, even though some observers see signs of protest fatigue among a population also battered by the Covid-19 pandemic.
"The remarkable lack of popular response to calls for mass protests in recent weeks indicates that Haitian people are tired of endless lockdowns and squabbling over power," a US State Department spokesperson was quoted as saying recently in the media.
Nevertheless, Haitian media spoke of a "human tide" of "several thousand" anti-Moïse protesters marching in the streets of Port-au-Prince on 14 February, and similar protests were reported in Cap-Haitien, Les Cayes, and Mirebalais in the north, south and centre of the nation.
But the commander of Haiti's armed forces has so far sided with the sitting president, saying that he backs Mr Moïse.
What reaction has there been?
The US government, the United Nations and the Organization of American States (OAS) have all indicated support for Mr Moïse to continue governing on the understanding that he holds free and fair elections in 2021. They appear to view this as the best strategy to avoid a descent into greater chaos.
Some Haitian media commentators have criticised what they call misplaced international support for an "unconstitutional" head of state.
Some of the 14 February protesters in Port-au-Prince shouted slogans condemning what they called the "interference" of the UN and the OAS.