El Salvador polls: More power for President Nayib Bukele?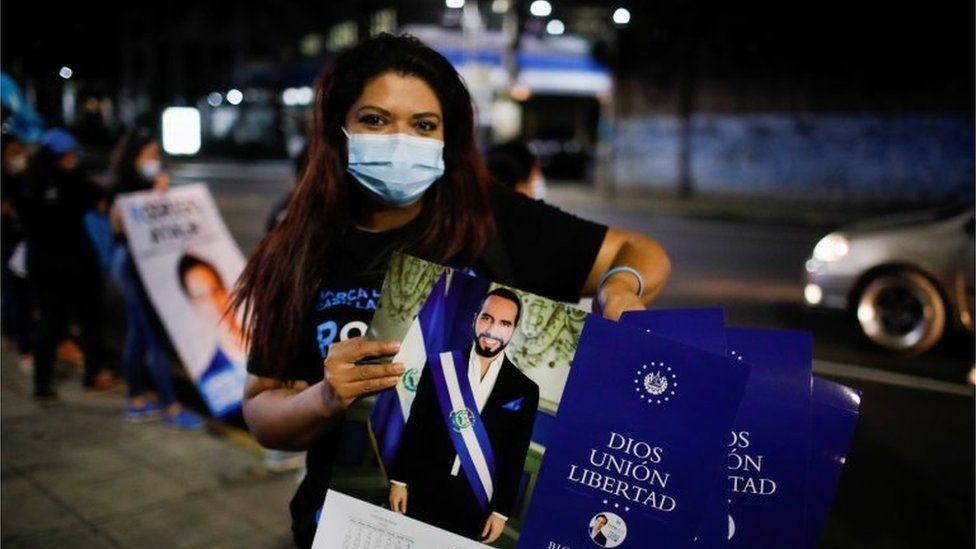 Salvadoreans are choosing members for their country's legislative assembly on Sunday in an election which could see President Nayib Bukele increase his power.
The social media-savvy president and his Nuevas Ideas (New Ideas) party, which currently holds no seats in the assembly, are keen to wrest control of the legislative body from the two political parties who have long dominated Salvadorean politics.
Opponents of the 39-year-old president fear that if his party and its allies gain control of the legislative assembly this will give him a free rein to govern from a position of strength and pursue his preferred policies.
His tough actions to fight gang crime and combat the Covid-19 pandemic have already raised concerns about democratic and media freedoms in the Central American country both at home and abroad, leading to accusations of him using authoritarian tactics.
But opinion polls suggest Nuevas Ideas - the party founded by President Bukele and registered in 2018, too late to participate in the last legislative election - has a big lead.
One poll by the José Simeón Cañas Central American University's Institute of Public Opinion suggested that 68% of Salvadoreans would cast their vote for Nuevas Ideas, a huge percentage considering it is the first time the party is contesting legislative elections.
Also competing for the 84 seats in the assembly are nine other parties.
Among them are the right-wing Nationalist Republican Alliance (Arena) party and the left-wing Farabundo Marti Liberation Front (FMLN), which reflect the opposing forces of El Salvador's 1979-1992 civil war.
Part of Nayib Bukele and his party's appeal lies in the fact that his election victory in February 2019 brought an end to the traditional two-party system in El Salvador.
Campaigning on a promise to tackle rampant gang violence and political corruption, he won more votes than all other candidates combined.
Since he assumed the presidency in June 2019, Mr Bukele has had a number of bruising run-ins with the FMLN and Arena lawmakers dominating the legislative assembly, whom he accuses of being corrupt and of having links with El Salvador's notoriously violent gangs.
In February 2020, his use of armed troops to take over the assembly in a bid to force the approval of his budget earned him condemnation at home and abroad.
President Bukele has also kept up a barrage of criticism on social media against his foes in the FMLN and Arena.
Opponents say they fear that if lawmakers from Mr Bukele's party win a big majority in the legislative assembly, this will threaten the separation of powers and eliminate checks on the presidency.
Johnny Wright, a candidate standing for the Nuestro Tiempo party, said that Salvadoreans would not be choosing between "the left or the right" but between "an authoritarian populist experiment or the defence of democracy".
Some of those charged in connection with killings were employees of the health ministry. An investigation into their possible motives is still under way.
After the killing, President Bukele was criticised for not immediately condemning the attack and furious lawmakers accused the president of inciting political violence.
But despite the criticism levelled against him by his opponents, opinion polls suggest Mr Bukele and his party remain popular with voters.
His approval rating for the government's handling of the coronavirus has been high and voters have listed the pandemic and its economic impact as their main concern ahead of the election.
President Bukele was quick to introduce tight restrictions on movement and commercial activity early on in the pandemic.
The measures, which were enforced by soldiers, earned him a rebuke from the United Nations High Commissioner for Human Rights Michelle Bachelet, who said that he was "restricting liberties" through the use of "military force" against lockdown violators.
But the fact that El Salvador has so far had a lower number of Covid-19 infections and related deaths than many of its Central American neighbours has translated into stronger support for his New Ideas party among the electorate.
The left-wing FMLN party has been highly critical of President Bukele and his Nuevas Ideas party, promising throughout the campaign to "overthrow lies, hate and authoritarianism".
Its candidates have promised to focus on social programmes, which they say the Bukele Administration has stalled. It has campaigned on a promise to be "the party for and of the people".
The right-wing Arena party meanwhile has described itself as "the only real opposition" to Mr Bukele and his party. It has urged Salvadoreans to vote what it described as a "wave of hate, of lies... of abuse by those who look to divide us as a country".
Its candidates say that if elected, they will work to increase employment opportunities while refraining from raising taxes.
Mr Bukele has dismissed both parties as "elitist" and "corrupt" and says that his party will continue fighting corruption and street gangs, promising a "zero tolerance" approach to both.