Grief as Guatemalan migrants killed in Mexico laid to rest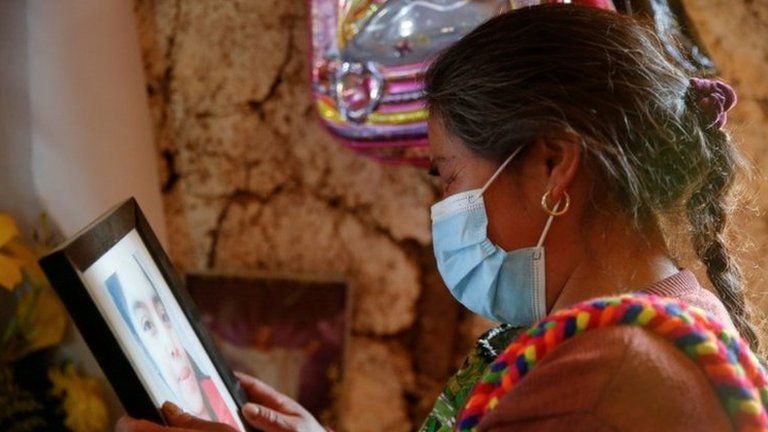 Around 1,500 people gathered in the Guatemalan town of Comitancillo on the weekend to remember 16 migrants who were brutally killed in January.
Their bodies were flown from Mexico to Guatemala on Friday, seven weeks after they were found in a lorry near the US-Mexico border.
Investigators think they were killed as part of a turf war between gangs over control of migrant smuggling routes.
Twelve Mexican police officers have been arrested over the killings.
In total, 19 bodies were recovered from the side of a road about 14 miles (22km) south from Mexico's border with Texas.
Forensic tests showed three of the victims were Mexican and the remaining 16 from Guatemala. At least 11 of those were from the same town, Comitancillo, in the Guatemalan highlands.
Thousands of Central Americans try to reach the United States every year to escape poverty and violence in their home countries.
The route north is beset with dangers with the migrants often falling prey to criminal gangs along the way.
Some pay people smugglers, known as coyotes, to take them to the US. The fees paid to the smugglers run in to the thousands of dollars and can often even exceed $10,000 (£7,200).
Competition for the migrants' money is fierce and investigators think that in the case of these killings, a rival gang targeted the group, shot them - and the people driving them - dead and burned their bodies.
Santa Cristina García, 19, was one of the migrants killed. Her family told local media that she had moved to the city of Zacapa, 380km from Comitancillo, in late 2020 for work.
She was employed in a shop, but found that her salary was too low to help her family. Ms García's 16-month-old sister has a cleft lip and the teenager wanted to earn enough to pay for her surgery, so she made the decision to emigrate to Florida.
Her father borrowed enough money to pay the coyote, giving the deeds to his home as collateral.
Santa Cristina's cousin, 16-year-old Anderson Marco Antulio Pablo, travelled with her and was also among those killed.
Many of those who died were in their late teens or early twenties, such as 18-year-old Ribaldo Danilo Jiménez Ramírez.
His father, too, had borrowed money to pay for his son to attempt the perilous journey to the US.
The last contact the family had with him was when he called an aunt who lives in the US to tell her he and the other migrants were approaching the border. He told his aunt that he was tired and stiff and that they were all crammed in on a bus.
Musicians also went to the home of Elfego Miranda Díaz to play at his wake. The 24-year-old was a popular man, especially at the evangelical church where he was a pastor.
His sister told Associated Press news agency that Elfego Miranda Díaz's plan was to reach New York. He wanted to stay there for five years to earn enough money to build not just a house for his family back in Comitancillo but also a church.
He is survived by his wife and three children. His sister said that the family does not know how they will feed the children now that their father is dead.
You may also be interested in:
All images subject to copyright.