Covid: Brazil's Bolsonaro calls governors 'tyrants' over lockdowns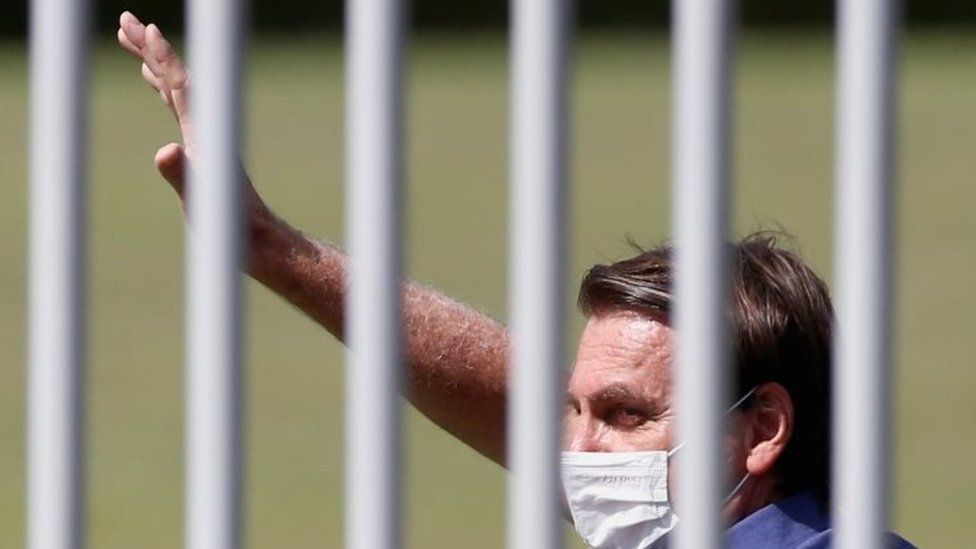 Brazilian President Jair Bolsonaro has described as "tyrants" state governors and mayors who have imposed lockdowns to contain the coronavirus outbreak.
Addressing supporters at his birthday celebrations in Brasilia, he said his government had done all it could and it was now time to reopen the economy.
It said intensive care units in hospitals were running out of capacity.
Mr Bolsonaro, who was 66 on Sunday, has consistently opposed quarantine measures, arguing that the collateral damage to the economy would be worse than the effects of the virus itself.
Mr Bolsonaro's handling of the outbreak has triggered widespread criticism both home and abroad.
In a separate development, Brazil's health ministry said on Sunday it was lifting its requirement for local authorities to reserve half their vaccine stockpiles for second doses.
Outgoing Health Minister Eduardo Pazuello said the aim was to get at least one vaccine dose to the maximum number of people as fast as possible, according to the AFP news agency.
Brazil has been struggling with the rollout of its vaccination programme across the vast country. So far, it has been using the Oxford-AstraZeneca vaccine and China's CoronaVac, both of which require two jabs.
Brazil has also placed orders for the Pfizer-BioNTech, Johnson & Johnson and Sputnik V vaccines.
Brazil has the world's second-highest number of Covid-related deaths - only behind the US.
More than 294,000 people have died since the start of the pandemic, with nearly 12 million confirmed infections, according to America's Johns Hopkins University.
More than 2,200 people on average are dying of Covid in Brazil daily.
The latest surge in cases has been attributed to the spread of highly contagious variants of the virus.
What did Brazil's health institute say?
"The analysis by our researchers suggests it's the biggest collapse of the hospital and health service in Brazil's history."
Covid-19 units in all but two of Brazil's 27 states were at or above 80% capacity, according to Fiocruz.
In Rio Grande do Sul, the institute said, there were no intensive care beds available at all.