Covid: Brazil's Jair Bolsonaro shuffles cabinet as pressure grows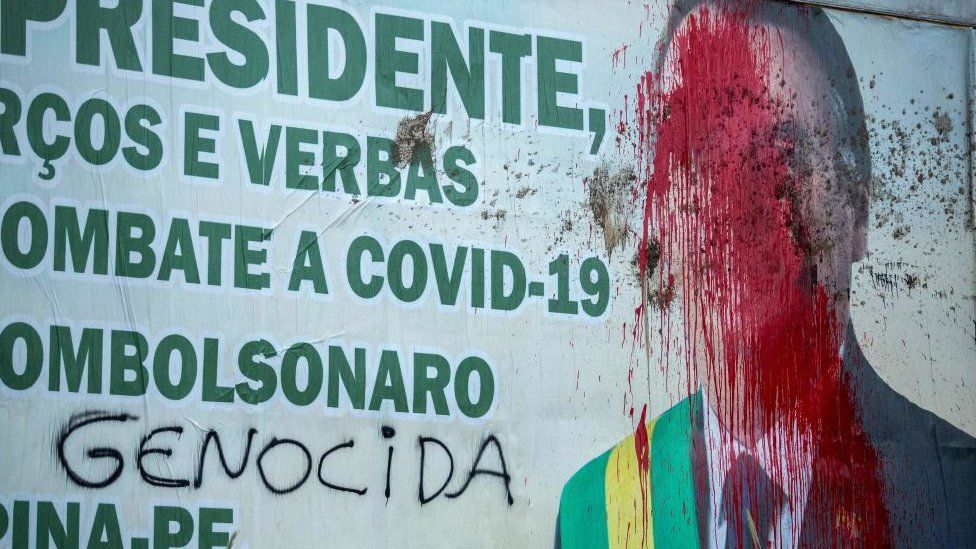 Brazil's far-right President Jair Bolsonaro has replaced six cabinet ministers as his popularity plummets over his handling of the pandemic.
It is the biggest reshuffle since Mr Bolsonaro came to power two years ago.
He has consistently opposed quarantine measures, arguing that the damage to the economy would be worse than the effects of the virus itself.
More than 300,000 people have died of Covid-19 in Brazil, with more than 12 million confirmed cases.
Both the foreign and defence ministers have been replaced in the cabinet shuffle.
The president's loyal Foreign Minister, Ernesto Araújo, stepped down after he was heavily criticised by lawmakers over the weekend for damaging Brazil's international standing. They said his poor handling of relations with China, India and the US meant Brazil had insufficient quantities of Covid-19 vaccine.
The new team is linked to a coalition of right-wing parties that support Mr Bolsonaro in Congress, the BBC's Leonardo Rocha reports.
The bloc is seen as increasingly powerful and even crucial for the president's political survival - he faces the prospect of an impeachment trial over his handling of the pandemic, our correspondent notes.
Some good news came from the new Health Minister Marcelo Queiroga, who said he was pushing to get an earlier delivery of Pfizer-BioNTech vaccine supplies from the US.
Mr Queiroga is the fourth person to serve as health minister in the past year.
Brazil has been struggling with the rollout of its vaccination programme across the vast country. So far, it has been using the Oxford-AstraZeneca vaccine and China's CoronaVac, both of which require two jabs.
Brazil has also placed orders for the single dose Johnson & Johnson vaccine and the Russian-made Sputnik V jab.
The latest surge in cases has been attributed to the spread of highly contagious variants of the virus.