Guillermo Lasso: Conservative ex-banker elected Ecuador president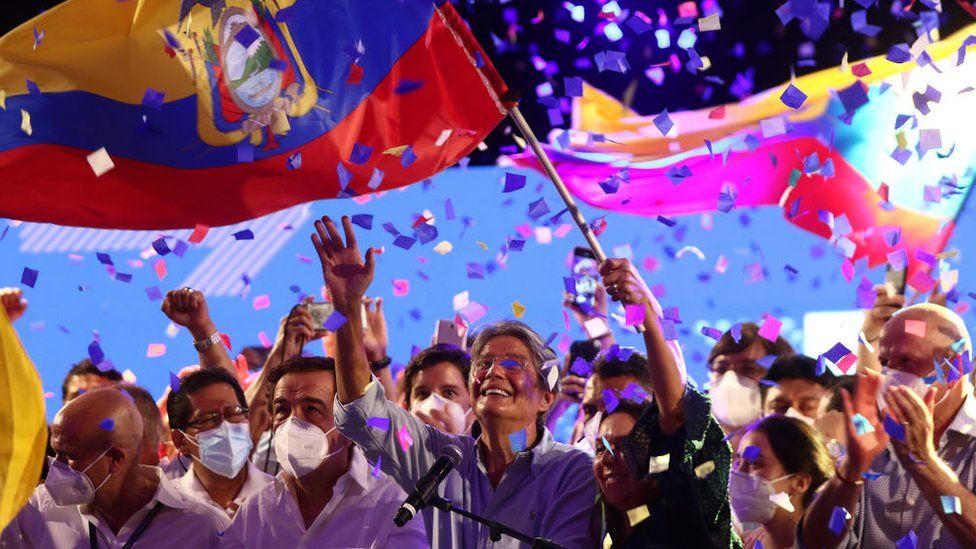 A conservative former banker, Guillermo Lasso, has won Ecuador's presidential election following a run-off vote.
His opponent, the left-wing economist Andrés Arauz, conceded defeat hours after polls closed on Sunday.
With almost all the ballots counted, Mr Lasso had won 52.4% of the vote compared to Mr Arauz's 47.6%.
Mr Lasso, a 65-year-old three-time presidential candidate, told supporters he accepted the "challenge of changing our country's destiny".
"It's a day on which all Ecuadoreans have decided their future," he said. "They have used their vote to express the need for change and the desire for better days."
From front-runner to loser
Mr Lasso's rival, Andrés Arauz, congratulated the winner: "I will show him our democratic convictions," he said at a rally.
The 36-year-old had won the first round on 7 February by a 10-percentage-point margin and until recently had been the favourite to become president. But polls suggested Mr Lasso started to catch up with him late on in the campaign.
Mr Arauz called the result "an electoral stumble, but not a political or moral defeat". He said it was now time to "move on, build bridges and create consensus".
Mr Lasso, who finished second in the 2013 and 2017 presidential elections, will assume office on 24 May.
The former banker has vowed to break away from the leftist policies of past administrations that he says have dragged Ecuador down.
"Ecuadoreans used their right to vote to choose a new course, very different to that of the past 14 years," he said.
"On 24 May, we will face the challenge of changing our homeland's destiny with responsibility to achieve an Ecuador which offers the opportunities and prosperity we all crave."
'Fairer and more prosperous'
Mr Lasso has pledged to attract increased foreign investment, create two million new jobs and increase oil production.
He has also proposed to raise the minimum monthly wage as well as introduce tax cuts for small businesses and to create a fund to stimulate entrepreneurship.
While Mr Lasso is seen as representing the country's business sector, in his victory speech he tried to appeal to wider sectors of society and said he wanted his administration to listen to "all Ecuadoreans".
He said he would "work non-stop" to defend the rights of women, including single mothers and pregnant teenagers, and that he would aim to end discrimination against LGBT people.
"Let's build a fairer and more prosperous country for all," he said.
Mr Lasso will be taking over the presidency from Lenín Moreno, who saw his popularity drop from 77% shortly after he was elected in 2017 to 7% in February 2020.
The new president will have to deal with the twin challenges of tackling Ecuador's economic and health crises.
According to Ecuador's central bank, the economy shrunk by 7.8% in 2020, and data from the National Statistics and Census Institute (INEC) showed that some half a million people remained unemployed as of January 2021.
In addition to the economic turmoil, corruption accusations inside the health ministry led to an almost two-month delay in designing a national Covid-19 vaccination plan.
The country is on its sixth health minister in four years after the fifth one was sacked last week.
Mauro Falconi was dismissed after delays in vaccine distribution saw elderly people queuing for hours despite having been given appointments.
Mr Lasso has vowed to vaccinate nine million Ecuadoreans in the first 100 days of his administration, and promised to lead "better" direct negotiations with the pharmaceutical companies producing the jabs.
The new president will also have to woo voters who are disillusioned with Ecuadorean politics. Voting is compulsory in Ecuador, but 16.3% spoiled their ballot while another 1.6% left them blank.
One of those who spoiled their ballot was indigenous leader Yaku Pérez, who had narrowly lost out on a place in the run-off election.
Mr Pérez had refused to back either Mr Lasso or Mr Arauz in the second round.
Mr Pérez's Pachakutik indigenous movement and the UNES coalition, led by former President Rafael Correa who backed Mr Arauz, are expected to act as a powerful counterweight in the National Assembly to Mr Lasso's executive.
You may also be interested in: