Three abducted Catholic clergy released in Haiti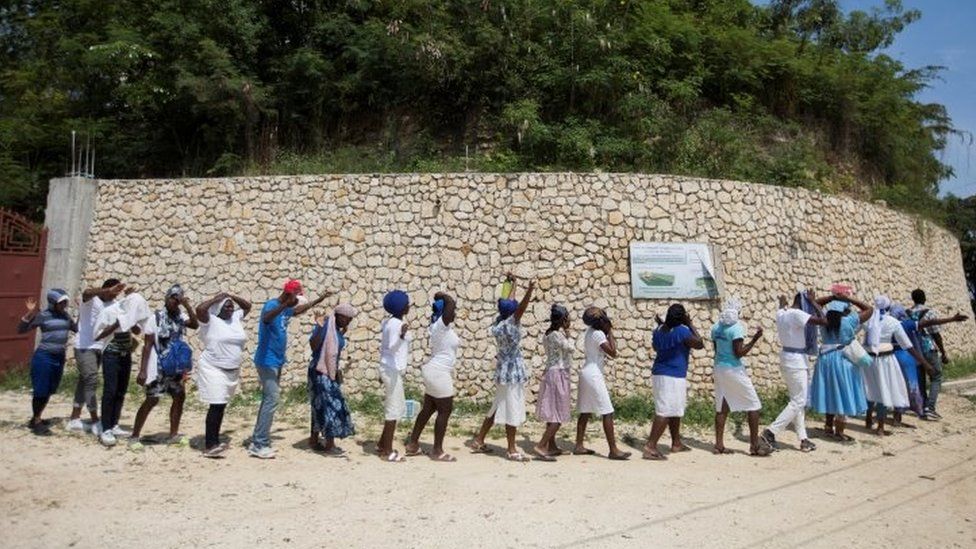 Three members of the Catholic clergy kidnapped in Haiti earlier month this have been released, officials say.
But seven other people - including a French nun and a French priest - abducted in the town of Croix-des-Bouquets remain in captivity.
The kidnappers had demanded $1m (£722,000) as a ransom payment after they seized the group on 11 April.
Haiti's President Jovenel Moïse has vowed to "do everything the law allows" to secure their release.
"Three of the seven clergy kidnapped on April 11 were released," Father Loudger Mazile, spokesman for the Bishop's Conference of the island nation, told the AFP on Thursday.
"The French were not released. There were no lay people among those released," he said.
It is not known whether any ransom has been paid.
The attack happened when the Catholic clergy were on their way to the installation of a new parish priest.
A police source told AFP that a gang calling itself 400 Mawozo was most probably behind the abduction.
Kidnappings have surged in Haiti, with the Catholic Church describing the situation as "a descent into hell".
While at first well-off business people were the main targets, victims have come from all walks of life. Religious groups have not been spared.
On 1 April, armed men burst into a service at an evangelical church on the outskirts of the capital, Port-au-Prince, and abducted the pastor and three other people. The service was being live-streamed on social media at the time.
The four were released three days later after an undisclosed sum was paid in ransom but the brazenness of kidnapping a pastor in the middle of a service shocked many Haitians.