César Prieto: Cuban baseball player defects on Florida trip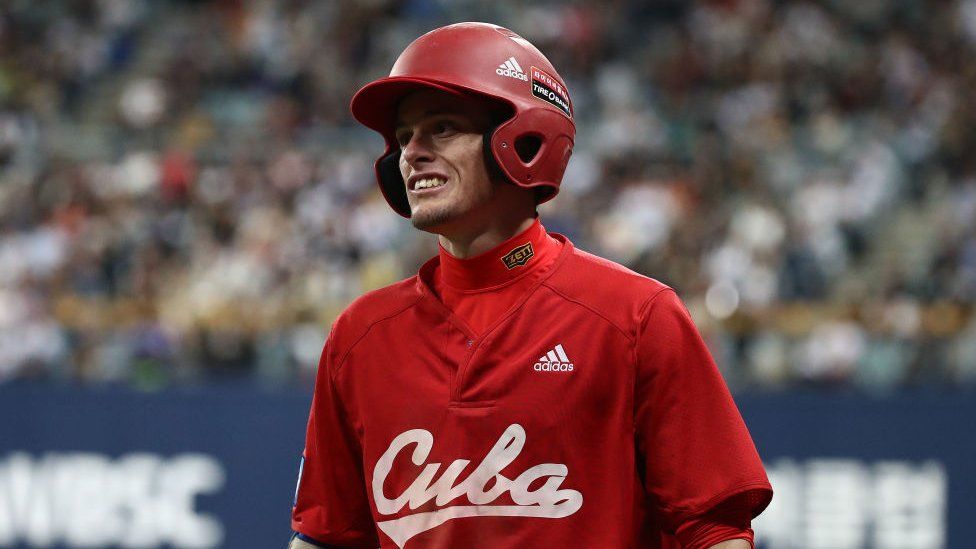 César Prieto, one of Cuba's top baseball stars, has abandoned his national team while in Florida for a qualifying event for the Olympics.
Prieto left the hotel shortly after he and his team mates had arrived.
In a statement, the Cuban Baseball Federation confirmed the 22-year-old had "abandoned" the delegation.
Cuban athletes have a long history of defecting, with baseball players, ballet dancers and footballers among those who have left their country.
Baseball journalist Francys Romero tweeted that Prieto had jumped into a vehicle shortly after getting off the team bus and was reportedly quickly driven away.
In its statement, the Cuban Baseball Federation criticised Prieto's move and said it had generated "repudiation among his colleagues and other members of the delegation".
Prieto is considered one of the country's best young prospects.
Analysis by Will Grant, BBC Cuba correspondent
Prieto's defection undoubtedly weakens the Cuban team as it heads in search of its fourth Olympic gold for baseball in Japan. Prieto was a record-breaking batter on the Communist-run island and considered one of the team's most valuable assets.
If, as expected, he now follows other high profile Cuban defectors into a Major League Baseball (MLB) team, he could sign a contract worth tens of millions of dollars.
Cuba denounced the practice of enticing its best talent to abandon the island with lucrative contracts as "people trafficking" and criticised the US government for not facilitating a system to, as it put it, "normalise" the inclusion of its players in the MLB without them having to resort to defection.
The Cuban team had arrived in Florida after a lengthy battle to obtain US visas.
Relations between Cuba and the US have been strained for decades. The US embassy in the capital, Havana, which re-opened under President Barack Obama, has been closed for all but emergency consular affairs since President Donald Trump reversed much of Mr Obama's thaw in Cuban-US relations.
The Cuban players finally obtained the necessary visas on Tuesday after a special effort by the US Embassy in Havana, according to the AP News agency.
The last-minute issuing of visas furthered Cubans' hopes of achieving a fourth gold medal in baseball at the Tokyo games later this year.
The side is set to play in a group along with Canada, Colombia and Venezuela during the qualifying tournament held in Florida next week.