Cuba protests: Frustration at government runs deep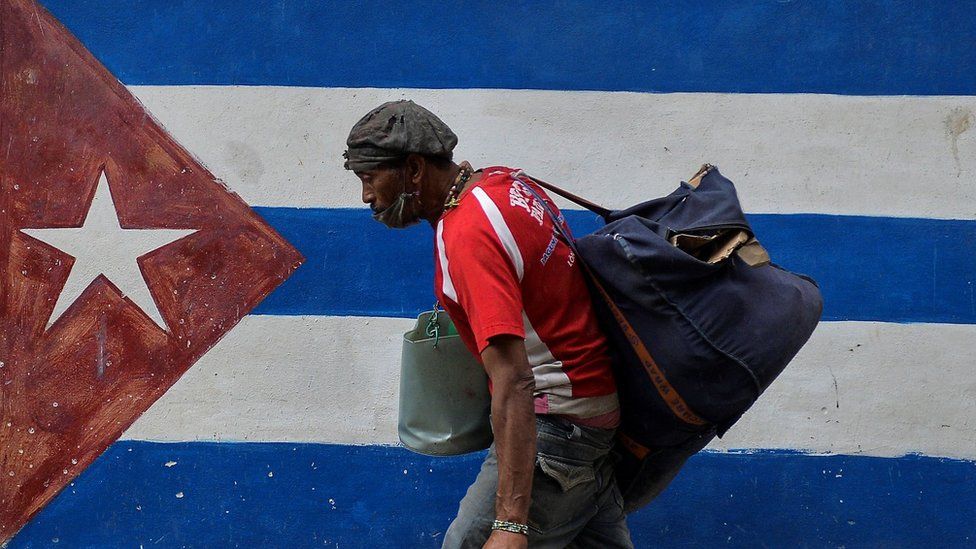 Cuba's communist rulers and state-controlled media are alleging that anti-government protests that swept across the island on Sunday were "organised and financed" from the United States, and egged on by a "perverse" and co-ordinated communications campaign on social media.
"There was no social uprising," Foreign Minister Bruno Rodríguez was quoted by the Communist Party daily Granma as saying.
"There were riots, disorder, caused by a communications operation that has been prepared for some time, to which multi-million dollar resources have been destined: laboratories, technological platforms [backed] with funds of the United States government."
However, monitoring of state media websites prior to the protests shows that Cubans had been voicing deep frustration, despair and anger online long before they took to the streets in their thousands to complain about shortages of food and medicines, power and water interruptions and an apparently faltering government response to surging Covid-19 cases.
In fact, they had been venting these feelings precisely on official online pages in Cuba, particularly on the readers' comments section of the government news website Cubadebate.
This section, though undoubtedly controlled and monitored, has become something of a sounding-board of public opinion on the island in recent years.
As Covid-19 cases and deaths announced by health authorities rose sharply recently, Cubans posted hundreds of comments on the site, with some openly criticising the health authorities and the government.
"Let's leave pride aside, the health system is collapsed, it's the moment to ask for international help, for how long are people going to carry on dying, there are no resources [to fight] this resurgence [of Covid-19]," reader Padrino said.
Danilo wrote: "We need medicines of all kinds and urgently".
The comments will not have gone unnoticed by the ruling Communist Party, which has a dedicated polling unit to track public opinion. The government - for all its efforts to characterise the protests as a "communications operation" driven from the US - was well aware of the existing levels of frustration and anger among the population.
'We've been begging for months'
Some readers also berated authorities about living conditions, complaining about everything from power outages to the difficulties in obtaining food, with citizens often having to queue for hours at state shops to obtain supplies.
"Lord, without water, or electricity, or food, that's how we all are," Dra J wrote.
Reader Alheli took aim at the government's exhortations for the population to show "resistance": "So how long is this resistance planned for? What happens to those who can no longer resist?... We've been begging for months for a change of strategy towards the pandemic and they've told us that no, that everything was under control."
"This is worse every day, and why wouldn't it be, if the conditions are less favourable every day," a reader called China wrote. "How can you pretend to control the virus if we can't comply with the basic things like the hygiene measures?"
Many readers repeated complaints - long made by citizens during the pandemic - that the food shortages meant that most people had to spend long periods outside of their homes, in crowded queues, just to obtain basic necessities, and were thereby exposed to increased risks of infection.
"This isn't just indiscipline, this is out of control, we have to go out into the street to be able to eat, queuing up for three and four hours," Carmen wrote.
Many who posted comments were particularly incensed that the government had continued to allow thousands of Russian tourists weekly into the premier beach resort of Varadero, in Matanzas province. This province is now one of the worst Covid-19 hotspots on the island.
Reader Carlos directly upbraided President Miguel Díaz-Canel, writing: "Mr president, this situation in Matanzas is because of the Delta strain coming from Russia. What were you [the government] thinking when a few months ago you re-established the flights from Russia? Weren't you aware of the Covid situation in that country?"
After being posted, and seen by BBC Monitoring, this comment was later removed from the site.
Several readers, like Cuba's government, laid the blame for the crisis on US sanctions, which have contributed to the island's dire economic situation and shortages. Marcia said: "The only help that Cuba needs to ask for is for them [the US] to take away the blockade [sanctions]".
But there were many others too who no longer wanted to hear this argument.
"I just want to point out that the indiscipline and the lack of responsibility and oversight is not the fault of the blockade or the Yankees. It is ours alone," reader Rafael said.