Venezuela crisis: Three in four in extreme poverty, study says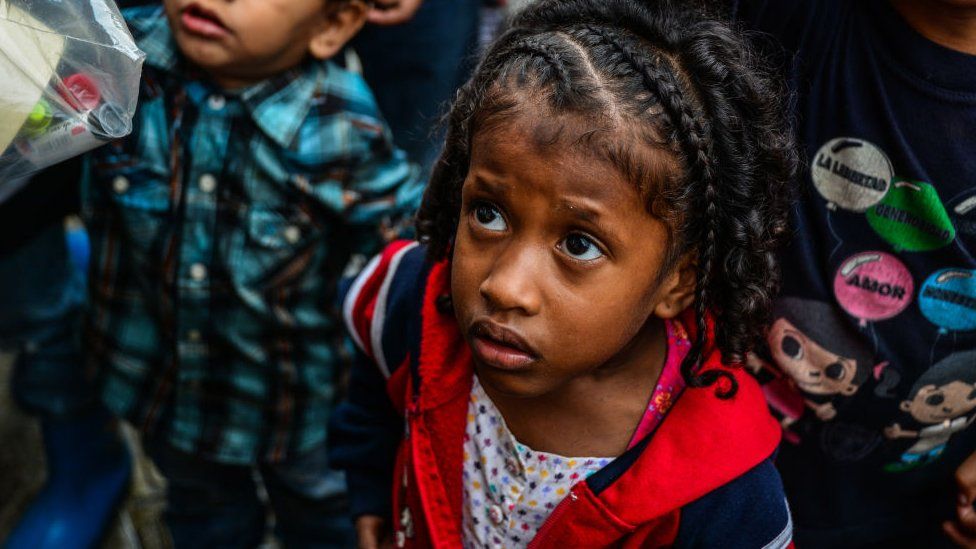 Three in every four Venezuelans live in extreme poverty, a study has said, as a years-long severe economic crisis in the oil-rich nation continues.
Researchers at Andrés Bello Catholic University (UCAB) linked the increase to both the pandemic and a fuel crisis.
Since 2014, the country has suffered from shortages of basic supplies and hyperinflation. Millions of people are in need of aid.
The government has not commented but it often says US sanctions are to blame.
Critics, however, say the crisis is a result of President Nicolás Maduro's economic mismanagement. Public services have collapsed, unemployment has soared and the local currency - the bolivar - is almost worthless.
Chronic fuel shortages, which became worse in 2020, and lockdowns introduced to curb the spread of Covid-19 were the main contributing factors, the study said. The poorest were the hardest hit as they were unable to find work in a country where one in two people is working in the informal economy, and many live hand-to-mouth.
The rise in extreme poverty reversed the improvement seen in the previous year, which came after the government started direct cash transfers to those in need and implemented economic changes, including the relaxation of price controls.
Despite having the largest oil reserves in the world, Venezuela has seen the collapse of its oil industry, responsible for almost all of the government revenue, after years of underinvestment and mismanagement.
Most recently, tough US sanctions on oil exports, introduced as a result of the disputed 2018 presidential election, have contributed to the crisis.
The Encovi report estimated that the Venezuelan Gross Domestic Product (GDP), which is the total of all value added created in the economy, shrank 74% between 2014 and 2020.
The economic collapse has led to a humanitarian crisis in the country of 28 million. Before the pandemic, the United Nations' World Food Programme (WFP) estimated that one in three people struggled to get enough food to meet the minimum nutrition requirements.
The situation has resulted in one of the largest displacement crises in the world, according to the UN, and more than 5.6 million people have left the country.
The Encovi survey was created in 2014 to make up for the absence of official data. It was conducted through questionnaires distributed to 14,000 households in 21 of the 23 Venezuelan states between February and April.