Gabriel Boric: From student protest leader to Chile's president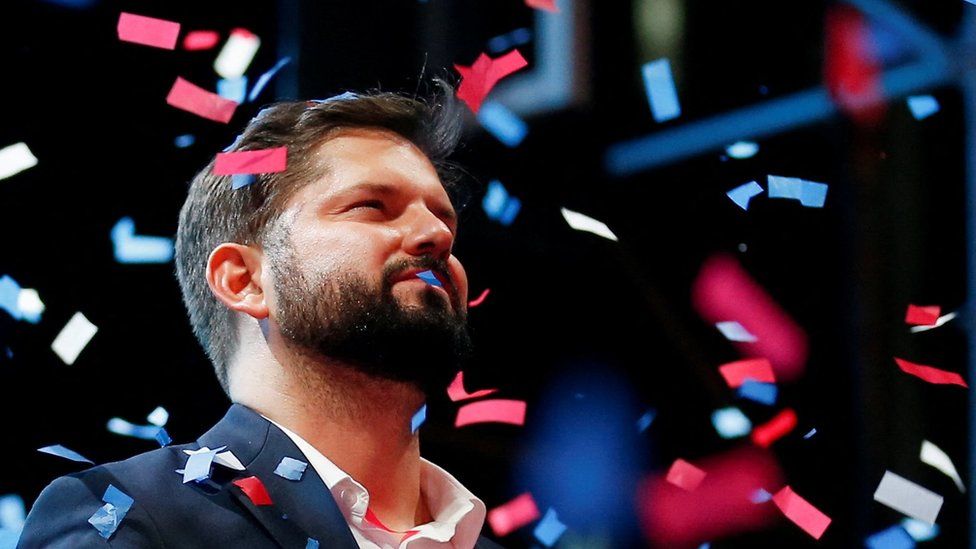 Former student protest leader Gabriel Boric has won a historic victory to become Chile's youngest ever president. The 35-year-old has promised ambitious changes for a country that has been rocked in recent years by mass demonstrations against inequality and corruption.
When Mr Boric won the candidacy of his leftist bloc to run for president, he made a bold pledge. "If Chile was the cradle of neoliberalism, it will also be its grave," he said. "Do not be afraid of the youth changing this country."
And so he ran on a platform promising radical reforms to the free-market economic model imposed by former dictator Gen Augusto Pinochet. One that, he says, is the root of the country's deep inequality, imbalances that came to the surface during protests in 2019 that triggered an official redraft of the constitution.
After a polarising campaign, Mr Boric defeated far-right rival José Antonio Kast in the second round of the presidential election by a surprising large margin, ushering in a new chapter in the country's political history.
"We are a generation that emerged in public life demanding our rights be respected as rights and not treated like consumer goods or a business," Mr Boric said in his victory speech to thousands of supporters, most of them young people.
"We know there continues to be justice for the rich, and justice for the poor, and we no longer will [we] permit that the poor keep paying the price of Chile's inequality."
Mr Boric not only faces a divided country but also a fractured parliament, worried investors and a slowed economy that is the result of the recent political upheaval and the pandemic.
Born on 11 February 1986 in Punta Arenas, in Chile's far south, he came to prominence a decade ago when he led mass demonstrations demanding improved and cheaper education.
He was then a law student at the University of Chile, but he never finished his studies, deciding instead to focus on politics. In 2013, he was elected to Congress as an independent, representing his Magallanes region, and was later re-elected to a second term with a landslide victory.
Bearded, tattooed and rarely seen wearing a tie, Mr Boric represented a break from the traditional image of presidential candidates. During the campaign, he spoke about his diagnosis of obsessive compulsive disorder, saying it was "good that Chile talked about mental health". Critics, however, say he is inexperienced, and he himself has conceded he has "much to learn".
Mr Boric, who says he is an avid reader of poetry and history, describes himself as a moderate socialist. He has abandoned the long hair of his activist days, and jackets now often cover his tattoos on both arms.
He has also softened some of his views while keeping his promises to overhaul the pension system, expand social services including universal health insurance, increase taxes for big companies and wealthy individuals, and create a greener economy.
His resounding win in the run-off vote of the presidential election, after trailing Mr Kast in the first round, came after he secured support beyond his base in the capital, Santiago, and attracted voters in rural areas. A supporter of same-sex marriage and abortion rights, he was also backed by huge numbers of women.
In his victory speech, when he was joined by his girlfriend, he promised to be a "president for all Chileans", saying: "Today hope trumped fear".