Covid: Chile starts fourth vaccine dose amid rise in cases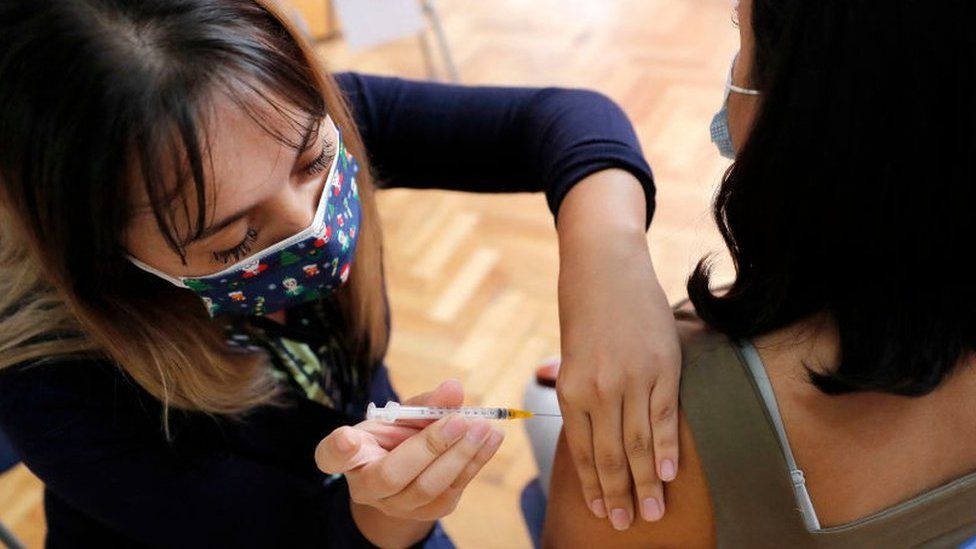 Chile has started administering fourth doses of Covid-19 vaccines, the first Latin American country to do so, as the Omicron variant fuels a surge in cases.
People with weakened immune systems will be the first to receive the shots. The campaign will be extended to all those over the age of 55 in February.
Infections are rising across South America, which was badly hit by previous waves of the pandemic.
Since then, some countries have managed to achieve high levels of vaccination.
Chile has fully vaccinated more than 14 million people over the age of three, out of a population of 19 million, according to the health ministry. Around 11.3 million people have already received a third dose.
The country's campaign started with the Chinese-made Sinovac vaccine, and the expansion of the programme to include fourth doses will use a combination of Sinovac, Pfizer and AstraZeneca jabs.
President Sebastián Piñera, who visited a Santiago hospital where fourth shots were offered on Monday, also urged people to get vaccinated, saying the jabs are "safe and work".
He said of those refusing to be vaccinated: "What you're doing is irresponsible. If you aren't vaccinated, you'll get infected, you'll infect your families, partners [and] work colleagues."
The highly infectious Omicron variant is behind a surge in cases around the world, though studies suggest it is less severe than other variants of the virus, especially for those who have been vaccinated. However, the high number of infections is putting pressure on health services.
Israel started offering a wide rollout of a fourth Covid-19 vaccine earlier this month, believed to be the first nation to do so.
Elsewhere in South America, Argentina, Bolivia and Peru have all reported record case counts in recent weeks.
Infections are also surging in the region's largest country, Brazil, where experts have warned the situation is likely to be worse than official numbers suggest. They say figures are not reliable because of a data blackout caused by hackers as well as insufficient testing.
The country, one of the world's hardest hit by the pandemic, is now administering a third dose of the vaccine.