López Obrador wins Mexico recall vote amid low turnout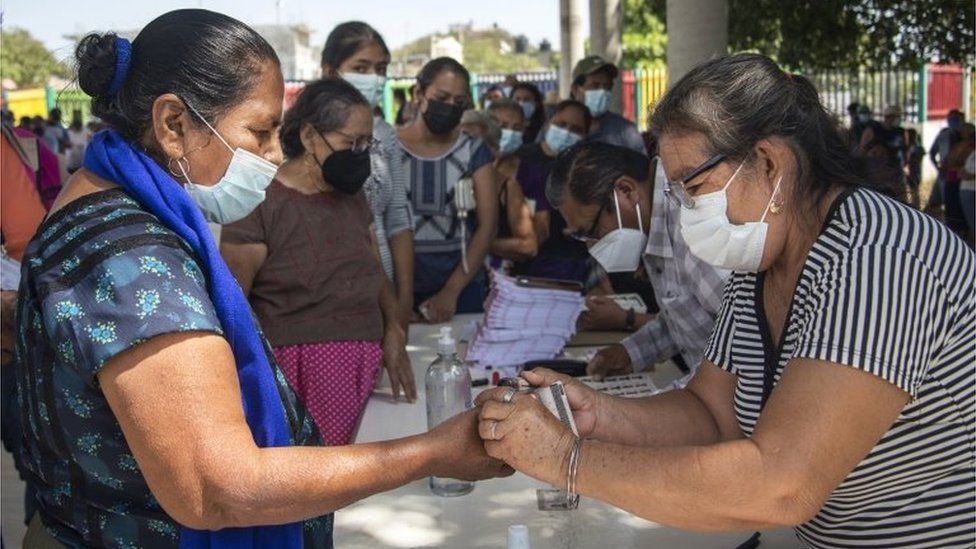 Mexico's President Andrés Manuel López Obrador has won a referendum on whether he should step down or complete his six-year term.
More than 90% of those who cast their votes said they wanted the president to stay in office, a quick count suggests.
But turnout was low at less than 19%, according to preliminary figures.
The president had called the unprecedented referendum, which critics said was a tactic to distract from his government's failures.
In Mexico, presidents are limited to a single six-year term in office.
But since before he was sworn in as president in 2018, Andrés Manuel López Obrador has promised to give voters a chance to remove him from office half-way through his term.
He argued that the referendum was vital to validating his democratic mandate.
With approval ratings around 60%, Mr López Obrador knew that he had every chance of winning the vote.
Moreover, the vote carried little risk for the president. In order to be binding, at least 40% of voters would have had to cast their ballots, an unlikely turnout in this first recall referendum to be held in Mexico.
Opponents of the divisive president labelled it as a waste of money and urged Mexicans to boycott it -and those who did turn out overwhelmingly backed the president.
President López Obrador celebrated the result, saying in a video address that "more than 15 million Mexicans are happy and want me to continue until September 2024" when his term comes to an end.
Some critics of the president feared that he may try to use an overwhelming victory in the recall referendum to pave the way for lifting Mexico's one-time presidential term limit.
But late on Sunday, Mr López Obrador stressed he had no intention of staying in power beyond the end of his term in 2024.
"I will continue to serve until the last day of my term, I will not go further than that because I am a democrat and I am not in favour of re-election," he said.
BBC Mexico Correspondent Will Grant says that the president will point to his wide margin of victory as evidence that his policies are popular among Mexicans, while his opponents will try to use the low turnout against him.