Abortion may be legal in Argentina but women still face major obstacles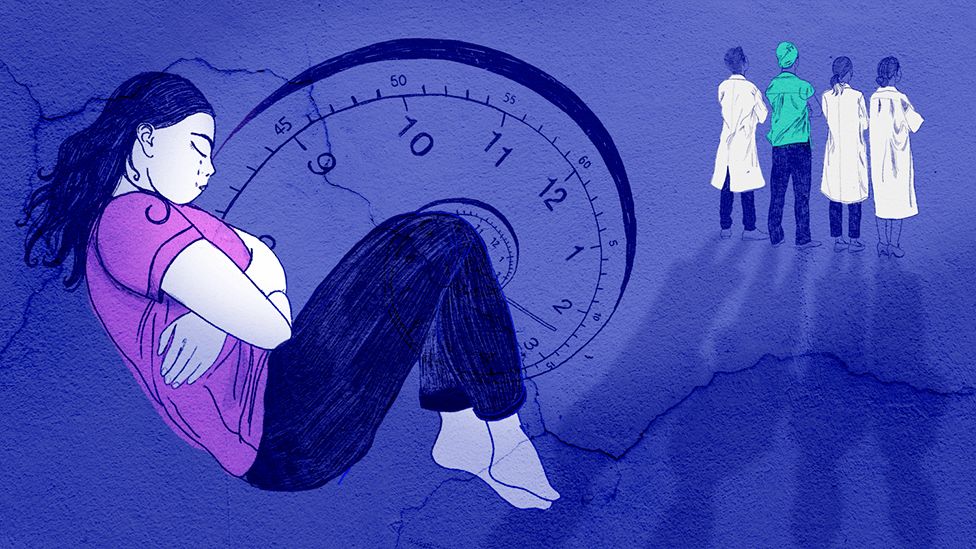 María was 23 when she decided to have an abortion.
At the health centre where she had gone for treatment, she says she overheard one doctor saying to a colleague: "When will these girls learn to keep their legs closed?"
María lives in Salta, a religiously conservative province in north-west Argentina, where many healthcare workers are still against abortion.
She was eventually given a pill to end her pregnancy, but she says the nurses were reluctant to treat her and wanted to make her feel guilty: "After I expelled the pregnancy tissue, I could see the foetus."
"The nurses put it in a jar to make sure I saw it and they told me, 'This could have been your child.'"
Argentina relaxed its law on abortion in 2020, allowing a woman to choose to terminate her pregnancy in the first 14 weeks, Previously, it was only allowed in the case of rape or if the woman's life or health was at risk.
Abortion is a highly contentious issue in Argentina, where more than 60% of people are Catholic and 15% are evangelical Christians, with the leadership of both groups opposing the practice.
The new law allows health workers in Argentina to abstain from performing abortions.
"As soon as the law was passed, I declared myself a conscientious objector," says Dr Carlos Franco, a paediatrician from the same area as María, who estimates that 90% of health workers in the province's main public hospital have done the same.
He says his years studying embryology left him with the belief that life begins at fertilisation.
"My duty, as a doctor, is to take care and protect the human life from the embryonic stage," he adds.
This helps explain why women like María are having so much trouble accessing legal abortions.
María had initially spent two days at the health centre just waiting to be seen by a doctor.
Eventually, when none came, she turned to social media for help and found Mónica Rodriguez, a local activist, who helped her file a complaint at the hospital and secure an appointment.
Ms Rodriguez says she gets about 100 phone calls a month from women in Salta who are having similar difficulty getting access to safe abortions.
She tells the BBC her main job is simply to listen: "While I don't recommend abortion, I don't romanticise motherhood either."
The campaign to expand abortion rights in Argentina has taken decades, but Valeria Isla, director of sexual and reproductive health at the national health ministry, says that significant progress has been made.
She cites official figures showing that the number of mothers dying from abortions has dropped by 40% since the law was enacted in 2021.
The number of public health centres that provide abortions has gone up by more than a half over the same period, and the drug misoprostol, which chemically induces abortions, is now being manufactured in the country, making it more widely available.
Long waits for treatment and the social stigma surrounding abortions can make women vulnerable to corrupt practices.
There have been cases reported of women being forced to pay hundreds of dollars for treatment that should be free in public health facilities.
"There is a mafia," says Dr María Laura Lerma, a psychologist based in a remote mountain community in Jujuy in the country's north-west. "In many rural areas of Argentina, some doctors who work in the public hospital take patients to their private clinics."
The government has urged women to report allegations of corruption, but many women in rural areas are too scared to do so.
Doctors who do agree to perform abortions have been targeted with spurious legal complaints.
In September 2021, one doctor in Salta was briefly detained following an accusation by the aunt of a 21-year-old patient that she had performed an "illegal abortion".
The accusation was untrue, but it took a year for a court to dismiss the case.
"Anti-abortion organisations have historical connections with judges and people in power and they use them to generate fear and endanger the freedom of doctors who provide abortions," says Rocío García Garro, a lawyer for pro-choice campaign group Catholics for the Right to Decide.
Anti-abortion campaigners are also using the courts to try and get the abortion law declared unconstitutional.
Cristina Fiore, a local parliament representative in Salta, is one of them.
"We believe human life starts at conception and we are against this throwaway culture," she says.
So far, all legal challenges have failed.
María is clear why she made the choice not to continue with her pregnancy: "I had never wanted to be a mum… My parents abandoned me and that's a trauma which has taken me years to overcome."
She says she wants training to be improved for nurses and gynaecologists to prevent others suffering like her.
"There are many women, especially in the small rural towns, who are discriminated against like me and not all of them dare to speak."
*Names of some contributors have been changed to protect their privacy.