Bashar al-Assad's tightening grip on Syria 10 years on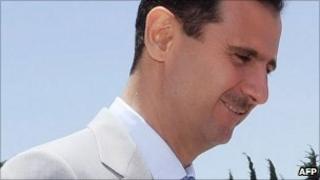 When Bashar al-Assad was sworn in as Syria's president on 17 July 2000 following his father Hafez al-Assad's death, few would have bet heavily on the tall, callow-looking young man's chances of still being in the job ten years later.
He was just 34 years old and the constitution had to be changed to enable him to take over.
There was no precedent for power passing from father to son in a supposedly democratic Arab republic.
And it was Bashar's more forceful elder brother Basil who had been groomed for leadership until his sudden death in a car crash in 1994.
Bashar Assad had to be called home from his job at the Western Eye Hospital in London.
Yet ten years after his inauguration, he is still in power.
With no perceptible threat to his rule at present, he is looking less vulnerable than at many times over the past decade.
'Damascus Spring'
He got off to a wobbly start.
In his inaugural speech, the new president dropped strong hints that a new era of openness and reform might be at hand.
That prompted dissidents and liberals, with official tolerance, to start up critical discussion groups in Damascus and elsewhere, an unprecedented development that became known as the Damascus Spring.
But the tolerance lasted only a matter of months before discussion forums began to be closed and dissidents arrested. Several were given five-year prison sentences.
Initially there was speculation that the untried new leader might be a virtual prisoner of the Old Guard who had been the stalwarts of his father's 30-year rule.
But he gradually began easing them aside and putting his own people - including his younger brother Mahir and his brother-in-law Asef Shawkat - in key positions of power.
One of the biggest threats to Hafez Assad's control had been an insurgency by the militant Muslim Brotherhood, drawn from the majority Sunni community, against the Baathist power system, dominated by Mr Assad's Alawite minority.
The unrest was suppressed ruthlessly in the early 1980s. Occasional incidents have continued, but Bashar Assad has managed to keep it under control, despite being accused by the Americans and others of allowing Sunni militants to cross the border to fight the coalition forces in Iraq.
Meaningful opposition has failed to coalesce, despite the defection and active hostility since 2005 of such key figures as Abd al-Halim Khaddam, who for decades was one of Hafez al-Assad's right-hand men and ended up being his vice-president.
US pressure
External pressures came to a head after the invasion of Iraq in 2003, creating the impression that regional power balances had changed and that Syria might be next on the list for the regime change ambitions of the neo-conservatives then in the ascendancy in Washington.
That pressure was strongly felt in Lebanon, where Syria's influence had ruled supreme since the entry of its troops in 1976.
A UN Security Council resolution in September 2004 demanded that Syrian forces leave Lebanon.
Five months later, one of the apparent architects of that resolution, the influential Lebanese former Prime Minister Rafiq al-Hariri, was assassinated in a huge car bomb explosion that was widely blamed on Syria, despite its denials.
Under massive international and Lebanese pressure, Syrian troops pulled out.
The heat on Damascus grew even stronger later in 2005, when a UN-based International Tribunal's interim report appeared to point the finger at Syria for the Hariri killing.
But since then the pressures have eased.
It soon became apparent that, while Washington might want to change Syria's behaviour, it had no appetite for changing the regime itself.
Eager to extract its troops from the Iraqi morass, another adventure in the region held little appeal for the US.
The mess in Iraq also boded ill for the fate of any similar attempt in Syria, especially given the absence of a credible opposition and the possibility of Sunni militants taking over.
So Bashar Assad has been left to continue an adroit balancing act, somehow managing to retain Syria's close strategic ties with Iran and its regional allies such as Hezbollah in Lebanon, while gradually thawing relations with Washington, Paris and other Western capitals, as well as with such powerful conservative regional states as Saudi Arabia.
The country's relations have also blossomed with northern neighbour Turkey, which for a time tried to act as go-between in revived peace talks with Israel.
But huge challenges undoubtedly lie ahead.
'Wasted decade'
The possibility of another regional war is being much discussed, amidst accusations that Iran is trying to develop a nuclear bomb and that Syria has been arming Hezbollah in Lebanon with Scud missiles - both charges denied.
Internal stability could also be threatened by social and economic factors.
Although the country opted for economic reform in 2005 and took steps to remove subsidies and liberalise the business climate, unemployment and poverty have worsened sharply.
There is also a perception of corruption on a huge scale.
To mark Bashar Assad's ten years in power, the international advocacy group Human Rights Watch issued a report entitled A Wasted Decade.
"Syria's security agencies, the feared mukhabarat, detain people without arrest warrants and torture with complete impunity," the report said.
"Censorship is prevalent and extends to popular websites such as Facebook, YouTube, and Blogger."
But Bashar Assad's grip on the reins of power certainly seems to be surer than at almost any time since he took over.
And the odds on him celebrating a second decade of rule would certainly be a lot stronger than they were in 2000.