EU envoy urges Israel to open Gaza borders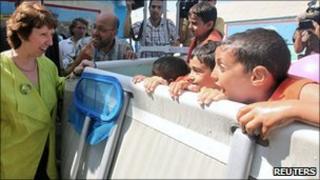 Israel must go beyond easing its blockade of Gaza and throw open its long-closed border, EU foreign policy chief Catherine Ashton has said.
Lady Ashton urged the international community to pressure Israel to end the blockade.
She is the most senior Western official to go to Gaza since Israel partly eased curbs on goods entering the territory.
Israel tightened its blockade in 2007 after the Islamist Hamas movement seized control of Gaza.
Lady Ashton did not have any official meetings with Hamas, the Islamist movement that controls Gaza. Its authority is not recognised by the EU, Israel or the US, who describe it as a terrorist organisation.
She went on to the nearby Israeli town of Sderot, which has been regularly targeted by Palestinian rocket attacks.
Her three-day visit to the region comes as peace envoy George Mitchell holds further talks between Israel and West Bank Palestinians in an attempt to restart direct negotiations.
Devastated economy
"The position of the European Union is very clear: that we want the opportunity for people to be able to move around freely or to see goods, not only coming into Gaza but exports coming out of Gaza," Baroness Ashton said on her second visit to Gaza in six months.
"And that is the position that we will be discussing with the Israeli government, as well as of course making sure that we're putting the right kind of pressure out to the international community."
The EU official visited UN facilities and spoke to local businessmen in Gaza.
She is due to meet Israeli Prime Minister Benjamin Netanyahu later in the day.
The BBC's Jon Donnison in Gaza says the territory's economy has been devastated by the blockade; exports are still banned and there is 40%unemployment.
Since Israel announced it was easing the blockade, more Israeli food products have been available in Gaza's shops.
However, the UN says it is only getting a fraction of the construction materials it needs.
Aid agencies say building materials are badly needed as the blockade has prevented much reconstruction taking place since the Israeli military offensive which ended in January 2009.
Israeli Public Affairs Minister Yuli Edelstein said he hoped that after her visit, Lady Ashton would understand "that there is no humanitarian crisis in Gaza."
"(Israel) did everything it could as far as the humanitarian aid to the civilian population of Gaza is concerned. At the same time, it's in the best interest of everyone who doesn't want to see a new round of violence in the area, to make sure that no weapons and no ammunition get to the Hamas government".