Many dead in Yemen rebel clashes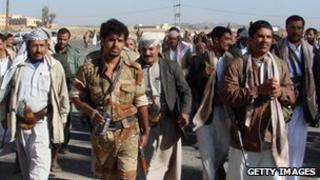 At least 34 people have been killed in northern Yemen over the last week in clashes between rebels and pro-government tribes, officials say.
The clashes have put strains on a truce between Shia Houthi rebels and the government, agreed in February.
The fighting has been flaring on and off since 2004, and last year neighbouring Saudi Arabia was brought in to the conflict.
Before the clashes, Qatar had offered to mediate a peace deal.
The government accused the rebels of killing a pro-government tribal chief and his sons in an ambush on Tuesday in the Saada region close to the border with Saudi Arabia, but the rebels denied it.
History
Houthis, named after their leaders' family name, complain that they are the victims of economic and religious discrimination, which the government denies.
The clashes in the Saada region, broke out between the rebels and the pro-government Ibn Aziz tribe, security officials told reporters.
There is a history of fighting between the two groups, but these clashes are believed to be the bloodiest since the truce was announced.
Yemen agreed the peace deal to the rebels in order to quell violence in its northern regions, allowing it to concentrate on a simmering separatist struggle in the south, and the presence of al-Qaeda in the Arabian Peninsula.