Syrian students face up to veil ban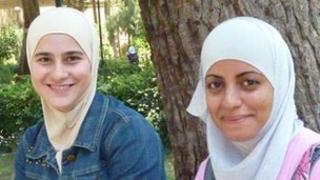 As Syria proceeds with legislation that would see face-covering veils banned in universities, the BBC's Lina Sinjab in Damascus visits the campus of Damascus University to find out what women there think about it.
Ghiyath Barakat, the country's minister of higher education, has said wearing full-face veils runs counter to the academic values and traditions of Syrian universities.
Syria is a secular state, but in recent years society has become more conservative, our correspondent says.
Salam and Razan, both 19
Salam, a biology student, says she does not agree with the decision.
"I do not agree with the decision because this is a personal choice and personal freedom.
"If a women is wearing the niqab, she should be responsible for her life and how to communicate with people but should not be deprived of her right to go to universities."
Her friend Razan, also studying biology, says she wants women to be uncovered:
"I do not believe in the niqab itself. I believe that women should not cover their face as it is something uncivilised."
Asmaa, 23, and Mariam, 29
Mariam is a school teacher. She agrees with the ruling banning face-covering veils:
"I agree with the decision. I have removed my niqab inside the university and even at school."
"But outside, I have my free choice to do it."
Her friend Asmaa is a chemistry student. She says the ban is an attempt to prevent women getting their rights:
"They keep talking about freedom and democracy and really they want to prevent us from going to universities.
"They should respect our religious rules. It is our rights to get higher education.
"This will affect more and more women not going to universities because they wear the niqab from an early age and they will give up education for their niqab.
"This is an uncivilised decision."