Mubarak TV address calms health fears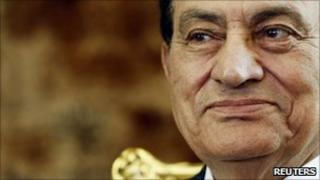 Egyptian President Hosni Mubarak has addressed the nation in a speech partly designed to give reassurance about his health.
The BBC's Jon Leyne in Cairo said Mr Mubarak appeared healthy but thinner than usual, and spoke standing up for more than 10 minutes.
President Mubarak, 82, had gall bladder surgery in Germany in March.
Concerns about his health resurfaced when a series of meetings was postponed last week.
Since then, Mr Mubarak has followed a busy schedule, meeting world leaders and attending public events almost daily.
Mr Mubarak has been in power for 29 years and his fifth six-year term ends in 2011. However, he has not made it clear whether he intends to stand in the elections.
Revolution Day
In his speech on the eve of Egypt's annual Revolution Day, President Mubarak spoke about the economy, democracy, human rights, the Palestinian question, and Egypt's place in the world.
"Economic growth and social justice summarise the many goals we aim for today, tomorrow and after tomorrow," he said.
"While I look forward to parliamentary elections that push forward our democratic experience, I call on all political parties to come up with ideas and visions to deal with these priorities - on which there is no disagreement."
Correspondents say Mr Mubarak's health is a taboo topic in Egypt and a cause of political and economic uncertainty, because he has no obvious successor.
The annual speech commemorates the anniversary of the military coup that toppled the monarchy in 1952.