Expanding business empire of Iran's Revolutionary Guards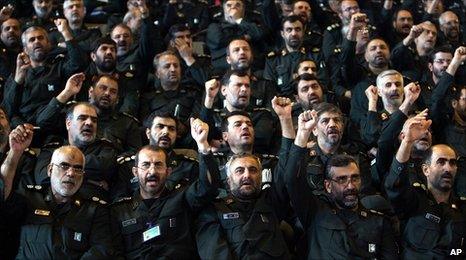 Iran has embarked on a remarkable - many would say bizarre - experiment in business management.
Domination of a fairly sophisticated, energy-rich economy has been handed to a secretive military organisation that started out as a religious militia.
The Islamic Revolutionary Guard Corps is now believed to control a third of the Iranian economy.
Some experts put the figure much higher, although all estimates are a matter of conjecture.
The force was created by Ayatollah Khomeini 30 years ago to protect the state and defend the principles of his Islamic revolution.
Its improbable journey to becoming a powerful business network is bound up with Iran's response to American pressure and international sanctions, which are intended to persuade Tehran to abandon alleged plans to develop nuclear weapons.
Among many other activities, the guard - often referred to by the acronym IRGC - is suspected of playing a central role in organising Iran's nuclear programme.
That is why the IRGC has been the prime target of four successive rounds of United Nations sanctions.
"By focussing on the Revolutionary Guards for sanctions, by making it clear to financial institutions around the world that doing business with the Revolutionary Guards puts at risk their access to the US financial system, I think they will be under significant pressure," explains Stuart Levey, the man in charge of US policy-making on this issue.
He has an impressive job title: under-secretary for terrorism and financial intelligence at the US treasury.
But there's no guarantee of success.
Indeed, some people argue sanctions and isolation are actually counterproductive because they create the conditions in which hardline groups, like the Revolutionary Guard, can extend their influence over politics and the economy.
"We are not in normal circumstances," says Abbas Edalat, an Iranian anti-sanctions campaigner and maths professor at Imperial College London.
"Iran has been subjected to threats of regime change, threats of military attack. In these circumstances it is not at all strange that the military gets increasingly more economic power in the country."
Speaking of the guard, he continues: "This is the force that the government can trust to run the economy when Iran is in a state of siege."
That is not a view Mr Levey is ever likely to accept.
"It's hard to argue that the Revolutionary Guard would have wanted to be singled out in UN Security Council resolutions for sanctions," he says.
No doubt the debate will continue.
But there's little dispute about the extent of the guards' business ambitions.
"What we do know is that they are trying to infiltrate every single aspect of the economy and are trying to engage in any kind of economic activity, both legal and illegal," explains Ali Alfoneh, an Iranian research fellow at the conservative-leaning American Enterprise Institute.
The IRGC has been building its economic influence for more than 20 years but the process has greatly accelerated since President Mahmoud Ahmadinejad - himself a former guardsman - took office in 2005.
In that period, the organisation's construction arm, Khatam al-Anbia, has won hundreds of lucrative government contracts in areas like construction, usually without having to bid.
It has also advanced through apparently rigged privatisations and part privatisations of state enterprises that, for example, saw a company affiliated to the guards take ownership of the national telephone service.
The guard is by far the largest investor on the Tehran stock market.
From car manufacturing to mining and clothing, even online shopping, there are few industries they aren't involved in, although often it's hard to tell what they control because it's well concealed.
"The Revolutionary Guard usually engages in trades [on the stock exchange] through front companies with names that vary and change all the time," says Mr Alfoneh.
"They do not want to be perceived as an economic enterprise. They consider themselves and they want to be considered as saviours of Iran, especially from the Iran-Iraq war," he adds.
And that's where the guard's business empire began.
The organisation emerged from the eight-year-long conflict with Iraq in the 1980s as a formidable fighting machine, with organisational and engineering skills to match.
These skills were put to good use in post-war reconstruction, and the guard has been expanding its business activities ever since.
Much more recently, the IRGC has developed a new line of business.
Firms affiliated to the guard have been awarded multi billion-dollar contracts to open up Iran's largest offshore gas field, South Pars.
They have filled the gap left by international energy groups like Shell, Repsol and Total, who have pulled out in response to US pressure and tensions with the government in Tehran.
In economic terms, it may seem mad to entrust the development of one of the nation's most important assets to a military organisation that has no known expertise in energy extraction.
But the politics are easy to understand.
President Ahmadinejad wants to free strategic industries from foreign influence.
But in a clandestine way, the guard is heavily involved in the outside world.
Remarkably for an organisation that's embedded in government, it runs a massive smuggling operation. It brings in everything from contraband to scarce consumer goods, even alcohol which is banned in Iran.
The IRGC is a complex organisation with many different layers.
Some Western analysts see it as a kind of state within a state with its own agenda. Others regard it as directly under the control of hardline elements within the government.
The reality may lie somewhere in between.
It may be both an arm of the state and a power in its own right.
One thing is clear. This is an odd way to run a modern economy.
Related Internet Links
The BBC is not responsible for the content of external sites.