Four dead in bomb attack on al-Arabiya TV in Baghdad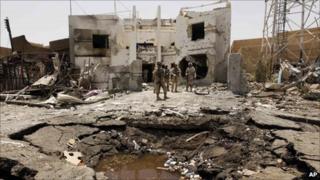 A suicide car bomber has killed four people in an attack near the Baghdad offices of the Saudi-owned pan-Arab news channel, al-Arabiya.
Officials say those killed included security guards and cleaning staff.
An al-Arabiya reporter said the bomber detonated his device after passing through an initial security gate.
The channel has been targeted in the past, and last month it briefly closed its offices in Baghdad after being warned of a planned attack.
The Baghdad bureau chief escaped an assassination attempt two years ago when he discovered a bomb attached to his car.
'Total destruction'
Speaking at the scene, the head of the interior ministry's ordnance department said the blast had destroyed the TV station.
"The internal and external pressure [of the blast] has led to a total destruction of al-Arabiya TV station headquarters," said Maj Gen Jihad al-Jabiri.
The attack also wounded 16 people, including former deputy prime minister Salam al-Zubaie, whose house was near the blast.
A large plume of smoke could be seen rising over the Baghdad skyline coming from near the station's offices, reports the BBC's Gabriel Gatehouse from the Iraqi capital.
But journalists at al-Arabiya's Baghdad bureau were back on air soon after the bombing, adds our correspondent.
One reporter said a minivan had managed to get past the channel's first security checkpoint, when there was an enormous explosion that shook the building, shattering windows and scattering glass and debris.
A spokesman for the Iraqi security forces said the attack had been carried out by al-Qaeda.
Al-Arabiya, which is perceived by extremist groups as being too pro-Western, has been targeted in the past.
In October 2006, a car bomb targeting the channel's previous bureau killed seven people and wounded 20.
And in February 2006, presenter Atwar Bahjat and two of her colleagues were murdered in the town of Samarra as they covered the bombing of a revered Shia shrine.