Lebanese army 'bolsters UN peacekeepers in south'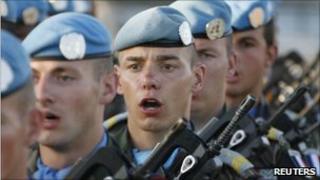 Lebanon will deploy extra troops in southern Lebanon, France's ambassador to Beirut has said, after a string of attacks on UN peacekeepers in the area.
Denis Pietton said a brigade of 1,500 soldiers was being deployed, following talks with Lebanese PM Saad Hariri.
He said the support for the UN force, Unifil, was "highly appreciated".
Villagers have clashed with UN troops, including French soldiers, over fears the force was trying to undermine the popular Shia movement, Hezbollah.
In one such incident earlier this month, villagers disarmed a French patrol of UN peacekeepers in the village of Tuline and attacked them with sticks, rocks and eggs before the army intervened.
The UN Security Council met earlier this month to discuss the clashes and called on "all parties" in the country to allow the forces to move freely.
Trust issues
"The deployment of additional army units in the south is highly appreciated," Lebanon's state news agency NNA quoted the French ambassador as saying.
France has 1,500 Unifil troops in Lebanon, the second largest contingent after Italy.
Earlier this month, residents protested after Unifil staged a "maximum deployment exercise" in southern Lebanon, which has been under the de facto control of Hezbollah since the withdrawal of Israeli forces in 2000.
Hezbollah, the strongest party in southern Lebanon, fought a devastating 2006 war with Israel.
Security Council Resolution 1701, that ended the 2006 war, expanded the mandate of Unifil and paved the way for the Lebanese army to deploy in the sensitive border area.
The UN force was originally formed in 1978 after Israeli troops entered southern Lebanon and began a 22-year occupation.