Egypt police in brutality trial over Khaled Said death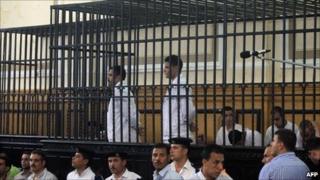 The trial has opened of two Egyptian policemen charged with brutality in the death of a 28-year-old man a month ago.
Khaled Said died in police custody on a street in Alexandria in June. The case has caused outrage at home and abroad.
After a brief session, the trial was adjourned to 25 September. The officers will remain in custody until then.
Witnesses say Mr Said died after he was dragged out of a cafe and beaten up. The government says he swallowed a packet of drugs and choked.
An Amnesty International statement issued on Monday expressed concern that witnesses in the trial could be harassed and urged the government to ensure their safety.
The US, EU and other human rights groups have all called for a transparent investigation.
Witness protection
Dozens of human rights activists protested outside the Alexandria Criminal Court as riot policemen stood guard.
The policemen - Warrant Officer Mahmoud Salah and Sgt Awad Ismail Suleiman - are charged with illegal arrest and excessive use of force.
They stood in the defendants' cage wearing white prison uniforms, surrounded by guards.
If convicted, they face between three and 15 years' imprisonment.
Lawyers for Mr Said's family asked that the charges be changed to murder.
The 28-year-old businessman died on 6 June in the northern port city of Alexandria.
Pictures have been circulated on the internet showing him covered with bruises and with his jaws and teeth broken.
However, two state autopsies have concluded that he died of suffocation from swallowing a packet of drugs.
Mr Said had earlier posted an internet video that purportedly showed two policemen sharing the spoils of a drug bust, sparking concern among his supporters that his death was a retaliation for the move.
There have been a number of demonstrations in Cairo and Alexandria, including one attended by the former UN nuclear chief Mohamed ElBaradei.
Amnesty International, which said a friend of Mr Said had been attacked last week by nine people armed with knives, called for the protection of witnesses.
"If justice is to be done in this case, the Egyptian authorities must ensure that the witnesses to the beating, as well as the dead man's family and those working to bring out the truth, are protected from threats, violence and intimidation, and feel able to freely testify in court," the rights group said in a statement.