Hamas bans lingerie displays in Gaza Strip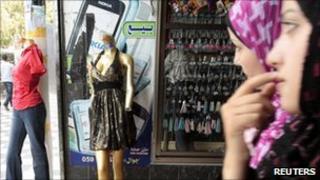 Scantily-clad mannequins and pictures of underwear models are to disappear from clothes shops in the Gaza Strip after officials announced new rules.
The Palestinian Islamist group Hamas, which controls Gaza, said that the new rules were to protect "public morality".
The ruling comes two weeks after the organisation banned women from smoking water pipes.
Hamas has repeatedly denied it intends to impose Islamic Sharia law in Gaza.
'Revealing'
It has so far taken only limited steps to enforce modesty and prevent the sexes from mixing in public.
"It is absolutely forbidden to place any photographic device inside the shop and it is forbidden to display revealing clothes in front of the shops," a statement from Hamas said.
"These measures have stemmed from complaints and pressure by ordinary people. They have to do with upholding our traditions," a police spokesman told the Reuters news agency.
Last year Hamas tried to prevent female lawyers from appearing in court without wearing a hijab scarf covering their heads, and banned men from working in women's hairdressers.