Iranian voices: Nuclear sanctions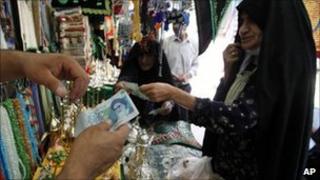 This week the pressure on Iran has increased with new, stricter, European Union sanctions. Just weeks earlier, US President Barack Obama signed a bill imposing the toughest measures yet in response to the Iranian nuclear programme.
Western powers say the so called "smart sanctions" are designed not to target the civilian population, only the Iranian regime.
So what do ordinary Iranians make of the sanctions and have they been affected by them personally? Here are some comments made by viewers to a call-in show at BBC Persian TV on Wednesday, as well as a selection of feedback from the website.
Yasin from Ahvaz, western Iran (phone-in)
We have had all forms of sanctions during the past 30 years and they have made Iranians more resistant to them.
For example, opposite to what should happen, the stock market indicator in Iran has gone up despite all of the ongoing sanctions.
And Asalooyeh (in Bushehr province) is a big example of the foreign investment in Iran despite of all the ongoing barriers.
Maryam from Iran (email)
Sanctions will only make people more miserable!
Amir Abbas (email)
I think it mainly affects the people, rather than the Iranian government.
When I was in Singapore, as an Iranian, I could not open a bank account, and the bank told me it was due to the sanctions.
When I am in Iran, I have a problem downloading software. I keep receiving the message that downloading this software is not allowed for/in your country.
Nima from Paris (website comment)
These are all due to the fact that the West has got history of animosity against Iran.
Even if we have the most democratic country in the world, the Americans, Israelis and Europeans who have plundered the world would never let us become powerful in the world.
Pouya from Tehran (website comment)
I doubt any of these ongoing sanctions are real. This is just a show. The European countries and even the US, which have been constantly talking about sanctions, in reality they have got business and hidden relationships.
Reza from Arak, central Iran (website comment)
The main effect of the sanctions is that people have start getting worried about what would be the next step. It will make them hesitate to make any investment. This will slow down the whole economy.
Yalda from Tehran (website comment)
If the Western countries are looking for a more effective way, I wonder why they don't apply political sanctions, rather than these economic ones. What sort of sanctions are these? On one hand, there is a sanction against Iran and on the other hand, leaders of the Islamic government constantly travel to other countries without any problem.