Direct talks a tough sell to Palestinians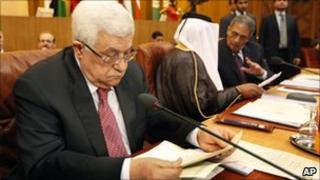 The backing of direct peace talks by Arab ministers meeting in Cairo has only piled pressure on Palestinian President Mahmoud Abbas to return to face-to-face talks with the Israelis, but there are some fundamental, outstanding issues causing the Palestinians to hold back.
In recent days and weeks, Israeli and Palestinian leaders have been engaged in their own, separate "charm offensives" - each trying to persuade regional and international opinion that they are genuinely committed to direct negotiations over a permanent peace deal.
Since May, Israeli and Palestinian negotiators have been engaged in indirect talks, mediated by former US Senator George Mitchell as he shuttles between Washington, Jerusalem and Ramallah.
Right noises
The question now: Have those talks provided enough common ground to warrant moving on to the next stage?
After a high-profile meeting with US President Barack Obama in Washington, followed by talks with regional figures - including Jordan's King Abdullah this week - Israeli Prime Minister Benjamin Netanyahu says he is committed to the goal of a two-state solution and is ready to meet his Palestinian counterpart "face-to-face and without preconditions".
But Mahmoud Abbas, President of the Palestinian Authority, is wary of sitting down with Mr Netanyahu - a stance in which he has so far been supported by the PLO's executive committee and the Arab League, which backed direct talks in principle, but left the timing for Mr Abbas to decide.
Mr Abbas, too, has been telling anyone who will listen that his side wants to have meaningful talks with an Israeli administration and a leader who, quite frankly, many Palestinians don't trust.
Catch 22
"As soon as there is progress [on key issues] we'll shift to direct talks", the 75-year-old leader of the Palestinian Authority recently told a group of senior Israeli journalists he'd invited to the occupied West Bank town of Ramallah.
And therein lies the problem.
Despite considerable pressure from figures like President Obama, Mr Abbas and his advisers do not want to be forced into a high-profile, stage-managed photo-opportunity with "Bibi" Netanyahu when there are some fundamental, outstanding issues they are clearly unhappy about.
"No progress has been made whatsoever and, on that basis, the Palestinian people will not support direct talks with Israel," Sabri Saidam, a key adviser to Mr Abbas says.
Fundamental principles, including an acceptance that a future Palestinian state should be based on the 1967 borders and an end to the expansion of illegal Jewish settlements on occupied Palestinian land, are among the core issues that the Palestinian side want to be established before they start talking about details with the Israelis.
False hopes
Weary after almost two decades of false hopes and expectations, most people on the Palestinian "street" seem to support the stance taken by Mahmoud Abbas.
"We should be patient and wait for Israel to make genuine moves to show they want peace," says Hamed Sadim, a civil servant.
"The settlement freeze [announced by Israel at the end of last year] isn't real. I travel around the West Bank and see construction everywhere."
The one group of people perhaps more impatient than most are Palestinian businessmen and women.
Despite the Israeli occupation and restrictions on the movement of people and goods, some West Bank towns like Ramallah are booming thanks to investment from international organisations and the Palestinian diaspora.
But as he sat in a cafe, with two fellow businessmen, importer Tawfiq Nassar was clearly frustrated with a political impasse which prevents him doing more business with Israel.
"There should be a peace deal, the sooner the better and if talks can bring about results then, yes, they should happen," the metals trader told me.
Countdown
But even though he is anxious to break the deadlock, he supports the reticence of the Palestinian leadership to hold out while Israel appears to be holding the upper hand.
Prospects for a peace deal are, ultimately, bleak and anyone optimistic about talks succeeding is difficult, almost impossible, to find.
But time is running out.
Benjamin Netanyahu is under pressure from his own right-wing coalition to resume full-scale construction in the settlements in September.
All the while the pressure on the elderly, tired Palestinian leader is arguably even greater.
Will Mahmoud Abbas stand firm, eschewing all attempts to budge, until he gets what he wants from Israel, or will he be persuaded that sitting down and talking with Israel in the next few weeks represents a last realistic chance for a peace deal for some time?