Syrian and Saudi leaders pledge support for Lebanon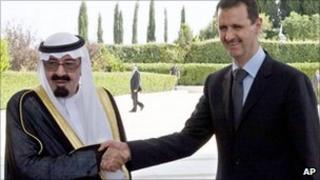 Syrian President Bashar al-Assad and King Abdullah of Saudi Arabia have pledged to work together to help stabilise Lebanon.
The two men "affirmed they care about backing concord" at talks in Damascus.
On Friday, they will travel to Beirut amid speculation a UN tribunal may soon indict members of Hezbollah for killing the former Lebanese PM, Rafik Hariri.
The Shia Islamist movement is part of Lebanon's unity government and there are fears sectarian tensions may rise.
Sheikh Hassan Nasrallah, its leader, last week dismissed the tribunal as an "Israeli project" after saying he had received word of the indictments.
UN investigators initially implicated Syrian and Lebanese security agencies in the 2005 assassination, which provoked such outcry that Syria was forced to end its 29-year military presence in its neighbour.
Damascus has repeatedly denied any involvement.
US 'interference'
The last meeting between President Assad and King Abdullah is thought to have been crucial in ending the five months of deadlock which preceded the formation of a unity government in Lebanon last November.
On Thursday, the two leaders again discussed the situation in the country, issuing a statement afterwards saying they had "affirmed that they care about backing concord in Lebanon and support all what contributes to its stability and unity".
Many Lebanese fear that if the UN tribunal indicts Hezbollah members it could lead to the collapse of the unity government - led by Hariri's son, Saad - and the outbreak of sectarian violence, last seen in Beirut two years ago.
Mr Assad's visit to Beirut on Friday - his first since Syria's withdrawal in 2005 - comes almost a week after Saad Hariri visited Damascus.
The president and King Abdullah also agreed during Thursday's talks that the "challenges facing Arabs, mainly in occupied Palestine, necessitate that all double their efforts to upgrade inter-Arab relations".
Earlier, Syria warned the US that it had "no right to determine our relationships with regional states or interfere in the content of the talks".
The comment came after US state department spokesman PJ Crowley said he hoped Mr Assad would "listen very attentively" to King Abdullah.
The US wants Syria to move away from its alliance with Iran, and abandon its support for Hezbollah and the Palestinian Islamist movement, Hamas.
It also wants Damascus and Riyadh to push for the swift resumption of direct peace talks between Israel and the Palestinians.