Travelling the smugglers' route from Turkey to Iran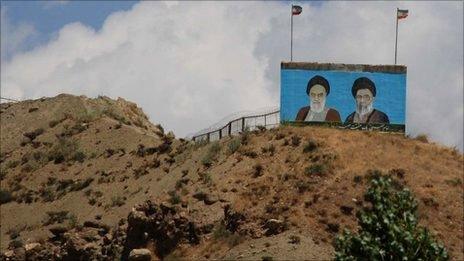 This is the image greeting travellers at the border. Behind the barbed wire snaking up the hillside, the huge portraits of Ayatollahs Khomeini and Khamenei dominate the valley.
This is the border between Iran and Turkey.
The Esendere crossing, one of just a handful of official transit points between the two countries, is in a dusty valley high up in the mountains.
A guard unlocks the padlock to swing open the big metal gate and an Iranian couple head towards the Iranian customs point. All morning there is a slow but steady flow of people.
Many of them are small traders like Abduluahap Derinsu. He is waiting to cross.
"We buy Iranian vegetables and fruit, like kiwi fruit and water melons. And we sell Turkish fabrics and clothes," says the 26-year-old.
He crosses into Iran most days.
"I don't make much money, and the Iranians make us pay all sorts of charges. But I don't have a choice - there's no other work round here, no factories. I have to feed a family of 15."
"Iran's isolation could mean new opportunities for our border region," says Osman Celik, the deputy chairman of Van Provincial Chamber of Commerce, as he shows off the commemorative plates from his last trip to Iran.
He travels to Iran regularly with delegations of local Turkish businessmen.
"If it was down to us, we wouldn't listen to any US or UK embargo - we would just do our business. But there are certain lines you just can't cross. Some problems need to be sorted out at a government level."
Last year, trade between Turkey and Iran was worth US $10bn, and they're hoping it will be doubled by 2011.
More than 60% of Turkey's exports go to European countries.
So as the government in Ankara, led by the Islamist-rooted AK Party, reaches out to its neighbour, does it risk alienating its traditional allies in the West?
"Our prime minister, Mr Erdogan is like a man with two wives - he wants to please both sides, until one side says enough is enough," says Cuneyt Ulsever, a writer and columnist with Hurriyet newspaper.
"I believe in the end, he will face America and turn his back on Iran."
"Turkey voted against the UN sanctions, but she's going to have to abide by them. So formally Turkey will probably give the impression to the world that she's abiding by them."
"But the illegal trading will probably gain some power, and people in the border will find a way to help their Iranian friends."
In the Iranian bazaar in the border town of Yuksekova, everything has come across the border - and much of it has not come through formal channels.
In the cramped shops off the long dark corridor Iranian carpets are stacked up, shelves are crammed with Iranian teapots, bags of Iranian sugar vie for space on the floor with Iranian suitcases, and trays of Iranian veterinary medicines sit out in the passageway.
One Iranian businessman says he can transfer anything overnight to Iran across the mountains, even a machine as big as a bulldozer.
Rafat Kaya is a Kurdish shepherd from southeastern Turkey. Sometimes, he says, he smuggles goods back and forward to Iran. He points to the mountains and says it take eight hours on horseback from his village to the border.
And that's something we keep hearing, locals in both Turkey and Iran know how to avoid border controls.
We're told they either pay off customs officials or they take one of the many goat-paths and unofficial routes that cross this 298 miles (480km) mountainous border.
So could Turkey ever really be sure exactly what it exports to its neighbour?
What else is being taken into Iran under the radar?
Back in Istanbul - the heart of Turkey's booming economy - the district of Aksaray is where Iranians head for if they are looking for Iranian travel agents, Iranian restaurants, Iranian shops and Iranian cargo houses.
It looks like a street in Tehran.
A few blocks away, an Iranian dealer agrees to talk to me.
His desk is messy, but he does serious business here.
He introduces himself as Mahmud, on the surface, he says, his business is legal.
But, he adds, just 10% of his goods go to Iran legally.
"I export strategic equipment, like aeroplane parts, to Iran," Mahmud says as he draws on a cigarette.
"Those companies would never sell their goods to Iran - because they have American investors."
He candidly explains how it works.
"How do we do it? A company like mine - we buy the equipment under the name of a Turkish company and the paperwork shows the destination is another country. But in fact the load ends up in Iran."
"We charge them 80% over the market price, but they need it - so they pay."