Death toll dispute highlights Iraq security concerns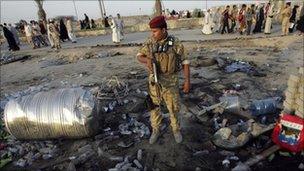 Despite conflicting casualty figures from American and Iraqi officials, an apparent increase in violence a month before all US combat troops leave Iraq is causing concern, says the BBC's Hugh Sykes in Baghdad.
The e-mail from Maj Gen Stephen Lanza, spokesman for US forces in Iraq, about the latest death toll here was stark.
It read: "We believe the figures provided to the media by unofficial sources this month were grossly overstated."
Those "unofficial sources" (at various Baghdad ministries) had told us that at least 535 people had been killed in July.
This would make July the worst month for violence since May 2008.
Gen Lanza's e-mail said the true figure was 222 killed in July.
I e-mailed him back to ask how he had reached that number. He told me he had his own trusted sources, and did not have any confidence in those "unofficial" sources at the ministries.
Whatever the true figure, July was a bad month. Car bombs and suicide attacks in Baghdad, Baquba and Karbala killed nearly 170 people.
There is concern here that al-Qaeda in Iraq have recovered some of the ground they lost to the American "surge" last year - and if they are making a comeback, this would be worrying less than a month before all US combat troops leave the country.
The decision to withdraw US combat troops from Iraq by the end of next month was agreed in November 2008, when the US ambassador to Iraq, Ryan Crocker, and Iraqi Foreign Minister Hoshyar Zebari signed a security pact requiring them all to go within three years.
Soon after his inauguration in 2009, President Barack Obama re-affirmed his commitment to the pact: "Let me say this as plainly as I can - by 31 August 2010 our combat mission in Iraq will end."
Under the security pact, it is not negotiable.
US troops are already confined to their bases here, unless the Iraqi Security Forces ask for their help.
The 50,000 that will remain until the end of next year will help train Iraqi forces and support counter-insurgency operations.
Mr Obama made all this very clear in his speech about the withdrawal in Atlanta on Monday.
He said progress towards the end of their combat mission by 31 August was "on schedule".
He said hundreds of bases had already been closed or handed over to the Iraqi security forces and that "millions of pieces of equipment" had been moved out in what he called "one of the largest logistics operations that we've seen in decades".
And it is quite likely that the departing troops will be gone well before the end-of-August deadline.
A year ago there were still about 150,000 US troops here. In May, the figure was down to about 80,000. That is only 30,000 to go to reach the number who will stay until next year.
Many Iraqis are more concerned about the political stalemate here.
There is deep frustration at the failure to form a government - five months after millions of people turned out to vote in parliamentary elections in March.
The deadlock is caused mainly by the refusal of Prime Minister Nouri Maliki to give way in favour of Ayad Allawi, leader of the bloc that won two more seats than Mr Maliki.
But neither has an overall majority, so even if Mr Maliki stands down there will have to be agreement eventually between them, or with others, to form a coalition.