Yemen suffers 'silent emergency' as food runs short
By Hugh Macleod and Annasofie Flamand
Bilad at-Taam, Yemen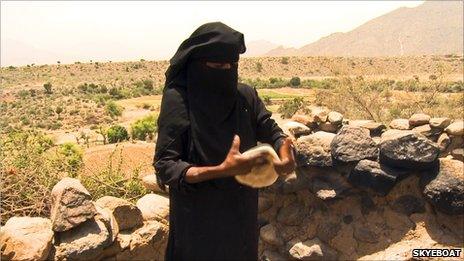 Deep in the remote and rugged highlands south-west of Yemen's capital Sanaa lies Bilad at-Taam, "the land of food", a valley whose name has become a sad irony.
For this is one of the hungriest areas of Yemen, where half of all families suffer from chronic food shortages.
Hunger in Yemen is what aid workers here call a "silent emergency". With the world's third highest rate of malnutrition, worse than anywhere in sub-Saharan Africa, generations of Yemeni children grow up stunted, physically and mentally.
According to the United Nations World Food Programme (WFP) a third of the country - more than seven million people - struggle daily to afford enough food to lead a healthy and productive life. Some 2.7 million are classified as severely food insecure, spending more than 30% of their meagre income on bread alone.
But there is no famine here. No vultures looming over skeletal babies. No film cameras to record flies landing on hollowed faces. No pop concert to raise awareness.
Hunger in Yemen is a fact of life - a quiet decline in health, education and employment, passed from one generation to the next. Hunger blights the lives of those three-quarters of families who live beyond the cities of this vast, unforgiving land.
Abdo Abdo al-Amry is a farmer from Bilad at-Taam. He uses his motorbike as a taxi to earn a dollar or two, to feed his family of 20.
Standing at the edge of his family's single stone room, he proudly introduces us to his 14 children. Their smiling faces show little sign of the starvation the world has come to know through television.
But look closer and you see legs that are bony and thin supporting bodies smaller than is healthy for their age - the outcome of years of growing up without enough to eat.
"We rely on bread for breakfast, lunch and dinner. The same every day," Abdo says, watching his children gather for their breakfast. "We get the okra from the market. Sometimes there is okra and sometimes there is nothing," he says. Okra is valued for its edible green seed pods.
Beside the children are Abdo's two wives. Though her black abbaya is long and loose, it can't quite hide the bump that shows that Saeda al-Amry, Abdo's second wife, is pregnant, for the 12th time. Yemen has one of the fastest growing populations in the world.
"I have been pregnant now for eight months and I have seven children, six girls and one boy," Saeda says. "Four of my children died. One of them was eight months old, but was very weak and thin due to lack of food. She died of dehydration. The rest died during my pregnancy. I had miscarriages."
Yet hunger in Yemen is not just about poor health. For Abdo's two daughters, Salama and Naima, it also means not getting an education.
In a country where gender inequality is the worst in the world, according to the World Economic Forum, girls often receive little or no schooling. The literacy rate for men is 70%, but it is only 30% for women.
To create an incentive for girls to attend school, the WFP used to provide a sack of wheat to families like Abdo's if their daughters regularly attended classes. The wheat, handed out once a term, offset the cost of school books and of not having the girl working at home.
The scheme was a remarkable success. At the al-Fouz school in Rayma, headmaster Ahmed Mohammed Ahmed explained that during the year the WFP scheme operated the number of girls attending his school rose from 18 to 61.
But the WFP has been forced to cut back its Food for Education programme due to drastic funding shortfalls. Midway through the year the agency had received from donors less than one third of its required budget.
For Salama and Naima that meant no more wheat bags to bring home to their father, who saw little point in keeping them in school.
"We withdrew them because they stopped giving us wheat. So it is better to keep them at home rather than going to school," said Abdo. "I am a poor person. That's why I took them out. If there is wheat, they can go back."
The UN's first humanitarian aid appeal for Yemen remains, in the words of a recent statement from the White House, "woefully under-funded", receiving by the middle of the year less than a third of its required $187m (£118m).
In June, the WFP was forced to halve rations it provides to some of the 300,000 internally displaced persons (IDPs), driven from their homes by war in north Yemen. Rations were also cut to 17,000 Somali refugees living in Kharaz camp in south Yemen, who are entirely dependent on food aid.
Despite a recent donation from the US of nearly $13m in cash and food to support its IDP operation, the WFP warns that a $55m shortfall in the second half of 2010 will mean 90% of its planned 3.1 million monthly beneficiaries will be without critical food and nutrition support. They include wasting children, pregnant mothers, school girls and severely food insecure people.
Abdel Karim al-Aryani, political advisor to Yemen's President Ali Abdullah Saleh, says the international community has turned a blind eye to Yemen's humanitarian crisis.
"The world is aware of Yemen as a haven for al-Qaeda in the Arabian Peninsula, and that Yemen is a dangerous state," said Mr Aryani. "But they are only aware of the security side of Yemen. The human suffering is almost totally ignored."
Critics of government policy, however, argue that the state has ignored the hunger crisis, failing to issue its own appeal for international assistance and presiding over endemic corruption that has brought the country to brink of starvation.
"The whole thing is a product of mad distribution of wealth," said Abdul Ghani Aryani, an independent political analyst.
"The problem now is that there are a small group of people who get hundreds of millions of dollars each year from the national budget, while millions are getting nothing. If we distribute our resources properly we will not have starvation. We will still be poor, but we will not be in a state of chronic hunger."
Sitting beside his dried-up well that can no longer water crops, Abdo al-Amry contemplates the upheaval his hunger may soon bring.
"We have become exhausted over the past eight months," he says. "If it stays like this for another year or two we may leave and migrate. How do you live in an area without anything?"
Back in Sanaa, the WFP's Yemen representative Gian Carlo Cirri put it more bluntly.
"The destabilising role of hunger should not be underestimated," he said. "It is of high concern because when people don't have food they have three options. The first one is to revolt. The second is to migrate. And the third is to starve."
Related Internet Links
The BBC is not responsible for the content of external sites.