Case studies: Child workers in Gaza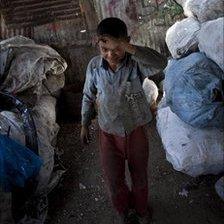 With Gaza's economy devastated by years of sanctions and decades of conflict, many families send their children to work in the city's rubbish dumps, streets and workshops.
Although Israel eased its blockade in mid-June - allowing in consumer goods - little has changed for Gaza's poorest families, who cannot afford the food and clothing in the market, and rely instead on aid handouts.
Unemployment runs at 40% in Gaza, which has been largely sealed off from the outside world by Israel and Egypt since 2007, when the Hamas militant movement seized power in the territory.
The UK-based aid group Save the Children, working with Getty photographer Warrick Page, has spoken to some of Gaza's young breadwinners.
Raed Ahmed Moussa, 14, mechanic, Gaza City
Raed Ahmed Moussa has been working at a Gaza workshop fixing car engines since he was 13. As his father is unemployed, Raed supports his extended family of eight brothers and sisters from his father's two wives.
"I quit school right after the war in January 2009 and I'm not even thinking of going back. Frankly I'm fed up with school. The teachers used to cane me across the palms of my hands because I wasn't a good student.
"My father has been out of work for years now. I'm the only breadwinner. One of my younger brothers quit school a year ago to work but he is doing nothing because there aren't any jobs in Gaza.
"I make 70 shekels a week (£12; $18) and give all the money I make to my father. He gives me 10 shekels a week, which isn't even enough to pay my transport to and from work each day.
"My salary is really low, but I'm sure it will get better. I love my job but I dream that one day I'll travel abroad to work in a foreign country."
Moussa Suhail Obeid, 13, rubbish collector, Gaza City
Moussa Suhail Obeid collects plastic and steel at Gaza's main landfill, near the Gaza-Israel border. He is paid half a shekel for every kilogram of scrap he gathers, making him 5 (80p; $1.3) to 8 shekels a day.
"I left school this year and I'm not going back. I was never a good student and I know I'm not going to be a doctor or a teacher, so I decided to quit because I'm convinced it's a waste of time.
"But that's not the only reason - my dad is unemployed and I have nine brothers and sisters who badly need food and money for school. My brother works in a factory that makes plastic pipes for agriculture but he works only when they have raw material.
"Honestly, I'm fed up with my life. I have been coming to the landfill for three years now. I used to come here very early in the morning before I went to school and come back after I'd finished class.
"I search all day through rubbish bags for plastic, copper and aluminium. Anything I find, I sell to a man here who collects the scrap for the factories - I'm sure he rips us off.
"I would work anywhere to provide my family with food. We are not refugees so we don't receive food aid from anyone.
"I feel so bad when I see other children playing and going to school while I'm working here in the heart of garbage. This is our life - we can't have everything we want."
Saleh al-Dama and son Ali, 11, rubble collectors, Jabaliya
"God forgive those who are forcing me to ask my son to work at such an early age," says Saleh al-Dama, who has 10 children between the ages of 18 and one-and-a-half.
"I'm now completely out of work. Most of the construction companies and factories here have been forced to shut because of the blockade. Several international NGOs have given me food supplies like cooking oil, flour, rice and beans. We depend on this to survive.
"I used to work in Israel as a construction worker and was earning well - I made $1,500 (£950) a month - but I lost my job when the intifada [uprising] started in 2000. When I lost that job, I started to work in Gaza as a plasterer.
"That wasn't so bad, I'd work at least two weeks every month and was able to buy a small house. But since Hamas has taken power [in 2007] and Israel applied the blockade, things have become much worse.
"After the war on Gaza, in 2008-2009, thousands of houses were totally destroyed. Collecting the rubble from these destroyed buildings has become one of the few ways people can earn money here.
"A month after I started, I found it difficult to work by myself so I decided to ask my son Ali to help me. He's 11 but he didn't think twice. I thought deeply before I asked him. It's really difficult to see my little son carrying out such hard work but life is tough and I had no choice.
"I used to buy all kinds of food, toys and clothes for my children before I lost my job. I'd feel like a king now if I could just provide them with food.
"Most of my children were born after the intifada [in 2000]. I thought the situation would get better after a year or two. I would never have had this many children if I'd known their lives would be like this.
"They are talking about relaxing the blockade but to me, it's nothing. I see the markets have all kinds fruits, food and clothes, but I can buy nothing for my children because my pocket are empty."
Sobhiya Bassal, nine, street peddler, Gaza City
When not at school, Sobhiya Bassal works as a street peddler at Gaza's main intersection, alongside her seven-year-old sister Alaa. She has three brothers and four sisters.
"I have been working at this crossroad for four years now. My young sister Alaa has worked here since she was four years old.
"I started working with my mother who also works here as a street seller. We were young and she couldn't leave us home alone, so she decided to take us with her.
"Now I work to help my destitute family. I sell chewing gum and sweets. My father is old and he can't work at all. I have only two brothers aged 17 and 15 who also work as peddlers in the market.
"I love both my work and the school. I'm a good student. I get the highest marks in school. When I come to the street corner, I dedicate my time and effort to my work, and when I'm at school I don't even think about my work.
"I feel I own this intersection. I work here for six hours every day after I finish my classes. Now we've finished school for the summer, I work for 12 hours.
"But I'm satisfied with everything I have, and thank God the money we make is enough to feed us and that aid agencies are here to pay for our education and health care."
Related Internet Links
The BBC is not responsible for the content of external sites.