Iran 'lying' about murder charges, says Ashtiani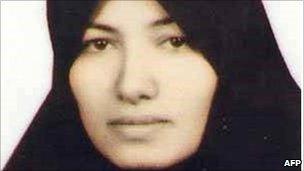 An Iranian woman sentenced to death by stoning for adultery has accused the Tehran government of lying about her case so they can execute her.
Iranian officials said Sakineh Mohammadi Ashtiani, 43, had been convicted of conspiracy to murder her husband, in addition to adultery.
But, via an intermediary, Ashtiani told the Guardian newspaper in London that was not true.
Ashtiani's death sentence by stoning has been suspended pending a review.
But she could still be executed by hanging.
On Thursday a senior Iranian official, told the UN that Ashtiani had been found guilty of conspiracy to murder her husband.
"They're lying," Ashtiani told the Guardian, speaking through the intermediary whom the paper did not name for security reasons.
"They are embarrassed by the international attention on my case and they are desperately trying to distract attention and confuse the media so that they can kill me in secret."
She said she had been acquitted of murder, but found guilty of adultery.
She also said her harsh treatment was down to the fact she was a woman.
A man has been convicted and jailed for the murder of Ashtiani's husband, but is not facing the death penalty, it was reported.
Related Internet Links
The BBC is not responsible for the content of external sites.